Holey FastWrap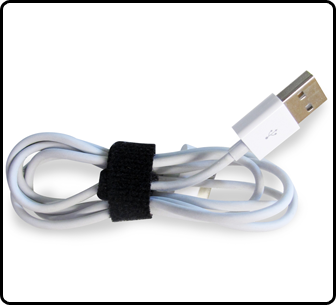 Secure loose wires and cables quickly using Holey FastWrap. Made of durable, indestructible VELCRO® brand fasteners, FastWrap can be used over and over again. The holes allowing you to pass the material through, creating loops to attach to your cables. Works on nearly any cable from USB chargers up to heavy duty extension cords.
Don't want the hole? See our FastWrap product.
VELCRO® is a registered trademark of Velcro BVBA. Used with permission.
SKU:
Price:
Average Ratings:





5
Write a Review
---
"Detangle Me"
Review: All those cords in my drawers and glove boxes are NOW under control. What I like best is if you need a longer piece, you can cut it to the length you need and it won't pull apart at any of the indents along the length.
---
"Labels"
Review: Check out my label idea...all using FastCap products!
---
"Holey Crap this stuff is awesome"
Review: I hate struggling with cheap power cords and Holey Fastwrap by Fastcap makes cord management easy. Works great on iPhone and laptop cords as well as medium gauge power tool cords.
---