FastPipe is a flexible and efficient system to make any cart, desk or workstation to your exact specifications. Any height, width or depth, whatever you can imagine you can build. The fittings and the pipes are 100% reusable. It is a steel pipe with PE coating. To shop for FastPipe Connectors & Accessories
Longer pieces of pipe are available for bulk orders. For more information on longer pieces please call:888-443-3748 or email shoppingcart@fastcap.com

Fastpipe ends can be rough and may require deburring to get a better fit for end caps or casters. You can deburr them with: a deburring tool, a step drill bit, a file, a dremmel tool with a grinding bit, or with other methods.
Please use care with Fastpipe, the ends may be sharp.
Using Fastpipe with EMT Connectors? Please note that some connectors will not fit. We are working to produce a new line of connectors to complement our current connectors to use with EMT. Right now our outside corner, 90 degree connector, casters, universal table top connector, and several other connectors will work with EMT, but the connection will be very tight.
Our round table top connector and parellel slide will not work.
Paul's Desk Instructions/Assembly Parts (PDF)
Paul's Desk Dimensions (PDF)
FastPipe Cart Instructions/Assembly Parts (PDF)
Lean Office Desk Instructions/Assembly Parts (PDF)
Fastpipe Connectors Standard Dimensions(PDF)

FastPipe Tech Specs Sheet (PDF)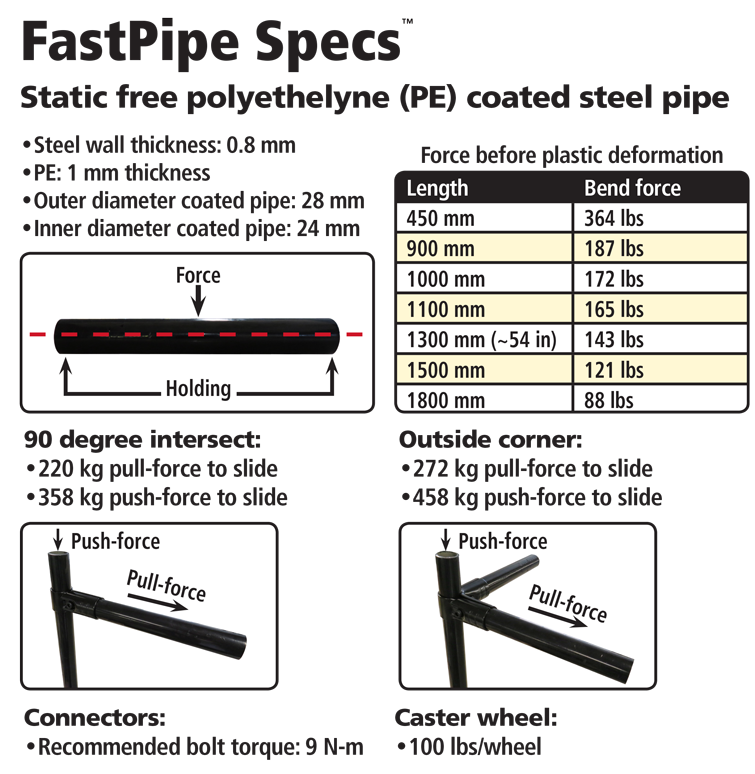 Will you help me design something with Fastpipe?
Sure! We can help design something with Fastpipe for you.
We charge $50 per hour for specification and design.
We will require you to provide us with details such as the size of the item you are looking for and general specifications such as the number of wheels you would like. We can help answer any questions you have about design as part of our design service but designing and specifying custom builds with this product takes a considerable amount of time for our engineers, so we do not offer free design consulting for this product.
Fastpipe is a product we sell at cost to showcase our Lean Manufacturing focus. We build all of our furniture at Fastcap out of Fastpipe. Fastpipe is flexible, modular, and perfectly suited to lean environments. Because we sell this product at cost, we cannot offer any free design services.
If you are interested in design services please email: shoppingcart@fastcap.com with an overview of what you are looking for and we will provide an estimate for the cost of design services.
Related Products