The Flex Light is the most versatile lighting system you will ever own! It clamps, hangs, and magnetically sticks anywhere. The rechargeable and cordless technology allows you to work on any project that requires lighting with no struggle. The rechargeable battery lasts 7 to 8 hours or can be a plugged in for endless illumination.
This product will only work with the provided charger. Do not use the USB cable with any other wall chargers. This product may not work outside the United States.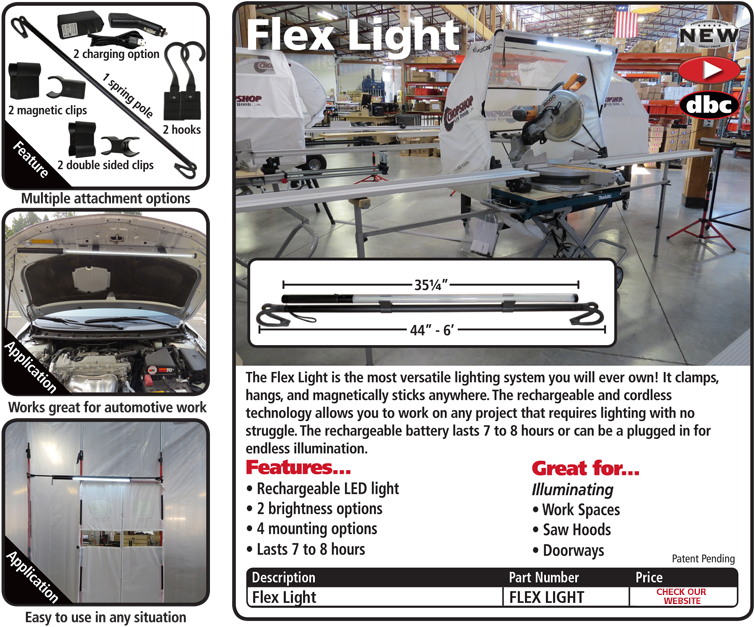 120 LEDS
500 Lumen Low (approximate)
1200 Lumen High (approximate)
A full charge takes approximately 4-5 hours. 7-8 hours battery life on a full charge.
The charger has a red indicator when charging, and a green indicator when fully charged.
May not work outside the United States
Do not use the USB cable with any other wall charges. The provided charger uses a specific input/output voltage and using other wall chargers may damage the batteries.
Are the magnetic clips not strong enough to hold the Flex Light in all positions on the FastPipe? Why are there also FastPipe clips?
They are strong enough to hold it on, but not super securely due to the plastic coating around the steel on the FastPipe, as well as the fact that you are putting a flat magnet on a round pipe, so if there's a saw or any other vibration on the FastPipe it could fall off, the clip will hold it much more securely.