Flush Cut Trimmers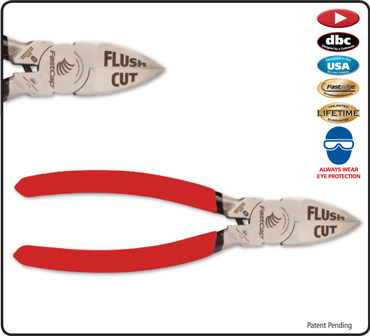 The innovative Flush Cut Trimmer series will help stop the struggle, saving you time and money. They are the first tool you will pull out of your bag every time! Five models to choose from for your specific need. Flush Cut Trimmers work great with wood and PVC edgebanding with standard thicknesses of .018"-.025".
SKU:
Price:

Average Ratings:





5
Write a Review
---
"Great tool for the DIY'er"
Review: Made some cabinets out of the Red Oak plywood and Red Oak edge banding available at Home Depot. After gluing on the edging, these snipe made cutting the edging very simple, very quick, and very flush.
---
"Awesome Products"
Review: Hi Paul, I just wanted to share that I bought two more of your awesome products about a week ago through Westlund here in Minnesota. I bought your Macro trimmer and I also bought the Speed Roller Pro. These tools are awesome, I had been using a plain old side cutter before this and wow what a difference, plus it reaches across the edge banding. Very good tool and very solid, when you put this tool in your hand you know its going to work. Now the Speed Roller Pro, I have been using a J style Roller for a long time But when I seen this new little gadget (The Speed Roller Pro) I knew I had to try it. That is the slickest, fastest, easiest, and handiest Hand tool I have purchased in a long time. I use my tools for a living and when I started using that I could not believe the difference. You can actually control the Speed Roller Pro, where as the J Roller it controlled you. I also own your Custom color Punch kit, another awesome tool, very well built. I am a very firm believer of your tools Paul, keep up the great work. By the way those Blind Nails you sent me a while back I use them constantly in my finish room I will send you a picture some time. So keep up the awesome work, keep the new idea's flowing. Sincerely, Tim J. Ziegler ZIEGLER WOODWORK & SPECIALTY
---