GluBot Family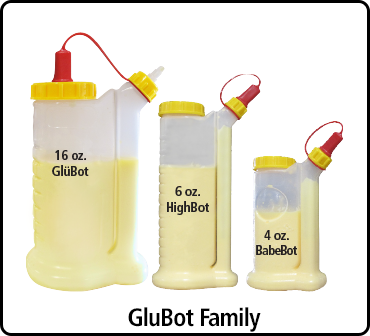 The GluBot, HighBot, and BabeBot from FastCap are designed by cabinetmakers and woodworkers. They are easy to fill, they don't drip, and they dispense glue in both horizontal and vertical position it will be the best glue bottle you will ever own.
Here is a link to all the GluBot, HighBot, and BabeBot Accessories
SKU:
Price: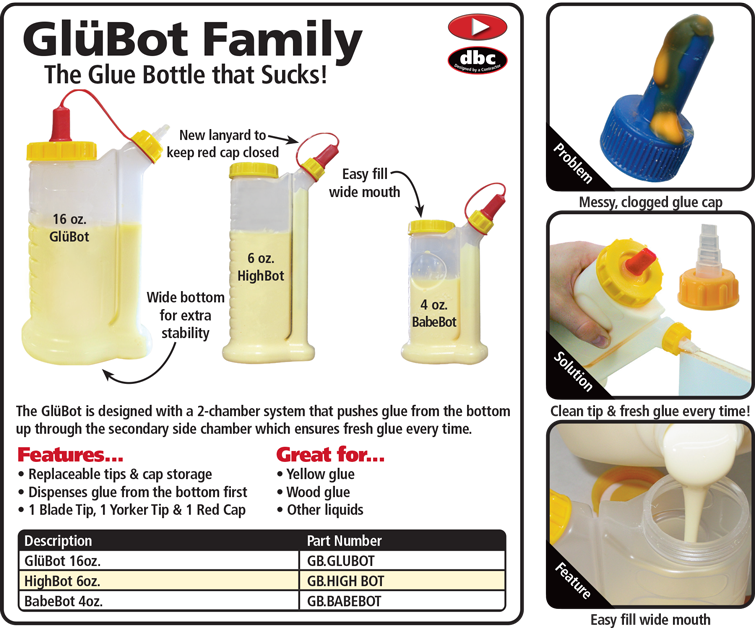 The GluBot™ is made out of polyethylene and is resistant to all solvents, except ones that are corrosive to that polymer or extremely high temps (80C+).
Does the 2P-10 XTip fit on the GluBot?
No, it only works on the BabeBot and the HighBot. The GluBot has a larger retaining ring.
Does it work with the thick Titebond molding and trim glue?
Yes, it should!
Is there a trick to keep the GluBot from clogging up the nozzle?
Go slow the first few times you use the GluBot. If you apply careful pressure when squeezing the bottle you should be able to get just the right amount of glue to dispense, and when you release the pressure it should suck the glue back into the bottle. If you squeeze too hard you will dispense too much glue which can coat the tip and cause clogs. Use a paper towel when you are done using the GluBot to wipe off any excess glue on the tip, and then replace the red cap firmly to prevent air from reaching the glue. If you only use theGluBot occasionally only put a small amount of glue in the bottle when you go to use it, and then wash out the glue bot with hot water when you are done. If you let the GluBot sit for an extended period of time the glue in the bottle will harden and can cause clogs. If you use the GluBot a lot you don't have to worry about this. A pin can be used to break up any clogs in the tip if you have not used the bottle in a while.
Will the GluBot hold lacquer and acetone thinner? From being a painter all these years, I know that it will melt a lot of plastics?
The GluBot is made out of polyethylene and is resistant to all solvents, except ones that are corrosive to that polymer or extremely high temps (80C+).
Where can I get a replacement gasket?
Please contact customer service (+1-888-443-3748 or shoppingcart@fastcap.com).
Average Ratings:





4
Write a Review
---
"Good aftersales"
Review: After my glubot was letting me down, Fastcap didn't. They did averything to help me solve the issue. So thumbs up for Fastcap!

Response: So sorry for your troubles! So glad we could help! FastCap's products are guaranteed for life!
---
"Glubot 16oz"
Review: Excellent Idea with poor engineering or quality control. It looks like the mold was not aligned properly when the bottle was made so the area around the small or discharge cap is crooked. If you get it just right you can turn the cap 1/2 turn before it feels like it will strip, I think if there was another round of thread it would be ok, but should be a little heavier (after all this is a shop tool). I tried it with water first and it leaked out around both caps, after tightening them as much as I dared they did not leak.

Response: So sorry to hear this! I'll pass this along! FastCap's products are guaranteed for life, so please contact Sandi (sandi@fastcap.com or 888-443-3748). She'll take care of it.
---
"It works way better than the glue bottles!!"
Review: I brought mine at menards because i was tired of buying little bottles. Buying by the gallon is cheaper. So i grabbed this off the self. When i first used it it wasn't working until I figured i had to cut the tip to my desired hole size. I used it that same day and it worked wonderful. I like that i can pour glue on any direction. I read reviews and mine has the black gasket lol.... I just want to buy more tips so i can have different ones with different hole sizes. Or replacements in case i dropped it and break the tip.

Response:Thanks! We love hearing this! Go to the Related Products Tab for a link to all the GluBot Accessories.
---
Read more reviews >