GluBot Family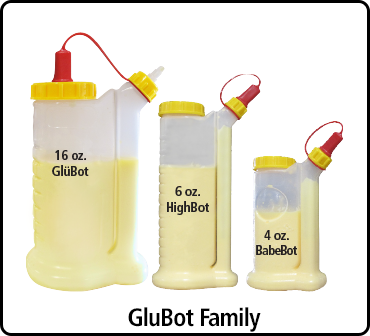 The GluBot, HighBot, and BabeBot from FastCap are designed by cabinetmakers and woodworkers. They are easy to fill, they don't drip, and they dispense glue in both horizontal and vertical position it will be the best glue bottle you will ever own.
Here is a link to all the GluBot, HighBot, and BabeBot Accessories
SKU:
Price: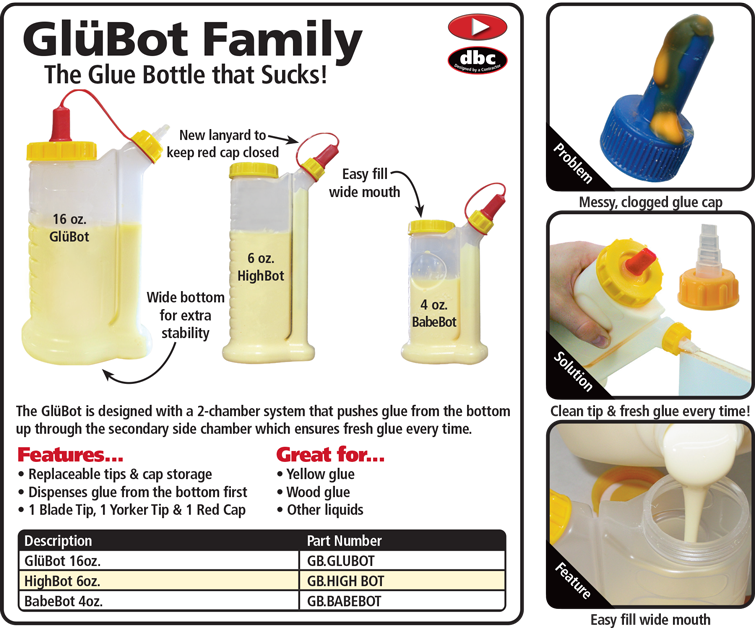 The GluBot™ is made out of polyethylene and is resistant to all solvents, except ones that are corrosive to that polymer or extremely high temps (80C+).
Does the 2P-10 XTip fit on the GluBot?
No, it only works on the BabeBot and the HighBot. The GluBot has a larger retaining ring.
Does it work with the thick Titebond molding and trim glue?
Yes, it should!
Is there a trick to keep the GluBot from clogging up the nozzle?
Go slow the first few times you use the GluBot. If you apply careful pressure when squeezing the bottle you should be able to get just the right amount of glue to dispense, and when you release the pressure it should suck the glue back into the bottle. If you squeeze too hard you will dispense too much glue which can coat the tip and cause clogs. Use a paper towel when you are done using the GluBot to wipe off any excess glue on the tip, and then replace the red cap firmly to prevent air from reaching the glue. If you only use theGluBot occasionally only put a small amount of glue in the bottle when you go to use it, and then wash out the glue bot with hot water when you are done. If you let the GluBot sit for an extended period of time the glue in the bottle will harden and can cause clogs. If you use the GluBot a lot you don't have to worry about this. A pin can be used to break up any clogs in the tip if you have not used the bottle in a while.
Will the GluBot hold lacquer and acetone thinner? From being a painter all these years, I know that it will melt a lot of plastics?
The GluBot is made out of polyethylene and is resistant to all solvents, except ones that are corrosive to that polymer or extremely high temps (80C+).
Average Ratings:





3.5
Write a Review
---
"Product Suggestion"
Review: I love the concept and when it functions properly, it is a 5 Rating. BUT, FastCap need to upgrade the two washers that are provided with the bottle. They appear to be a low cost seal, because they do not last more than about two lid on/off cycles. This product would be an unequivocal 5 Rating from me if the washers worked or at least had a third party substitute that would hold up. PLEASE have your product people look into this.

Response: We definitely will. Make sure you have the newer black washer. If you don't, let us know and we will replace it!
---
"Gluebot Rocks"
Review: The Gluebot is a fantastic tool. I purchased the 16oz and Baby bots just over a year ago and they have worked great. They really help keep my work space neater. No Glue drips all over the place. I would have given 5 stars except the 16oz just had a hole open up in one of the seams and won't hold pressure to squeeze the glue out. But I like it so much I am buying another one.

Response: Contact Sandi (sandi@fastcap.com) and she will send you a replacement!
---
"Still not perfect..."
Review: I've used the glubot for well over a year, and thought it works as advertised, mine developed a problem that makes it almost useless. The flexible washer under the fill cap no longer functions properly. It won't completely seal and as a result, glue comes out of the spout as well as the top. And that causes another problem. The top can be very difficult to remove when it's time to add more glue. I don't know if I got a bad seal or if it needs to be redesigned (thicker maybe), but I stopped using my globot.

Response: Sorry to hear that Stephen. Please contact Sandi (sandi@fastcap.com) for a replacement.
---
Read more reviews >