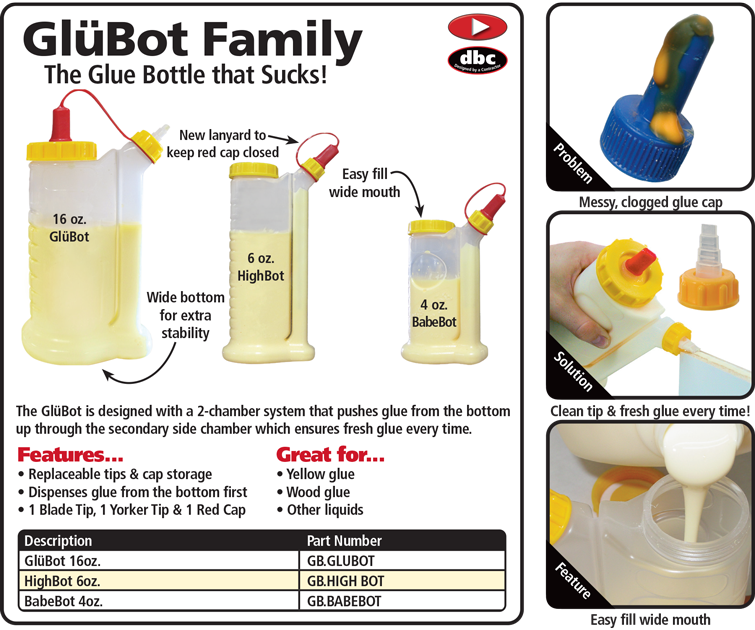 The GluBot™ is made out of polyethylene and is resistant to all solvents, except ones that are corrosive to that polymer or extremely high temps (80C+).
Average Ratings:





4
Write a Review
---
"Gluebot Rocks"
Review: The Gluebot is a fantastic tool. I purchased the 16oz and Baby bots just over a year ago and they have worked great. They really help keep my work space neater. No Glue drips all over the place. I would have given 5 stars except the 16oz just had a hole open up in one of the seams and won't hold pressure to squeeze the glue out. But I like it so much I am buying another one.

Response: Contact Sandi (sandi@fastcap.com) and she will send you a replacement!
---
"Still not perfect..."
Review: I've used the glubot for well over a year, and thought it works as advertised, mine developed a problem that makes it almost useless. The flexible washer under the fill cap no longer functions properly. It won't completely seal and as a result, glue comes out of the spout as well as the top. And that causes another problem. The top can be very difficult to remove when it's time to add more glue. I don't know if I got a bad seal or if it needs to be redesigned (thicker maybe), but I stopped using my globot.

Response: Sorry to hear that Stephen. Please contact Sandi (sandi@fastcap.com) for a replacement.
---
"Glubot"
Review: What a remarkable tool. Easy to use and no more glue drip, plugged tips, excess glue from too large of a tip. Cannot say enough about Fast Cap products for making the job easier, safer, less stressful and time saving.

Response: We love hearing this, Wally! Thanks for taking the time to share!
---