Laserjamb LJ4 Pro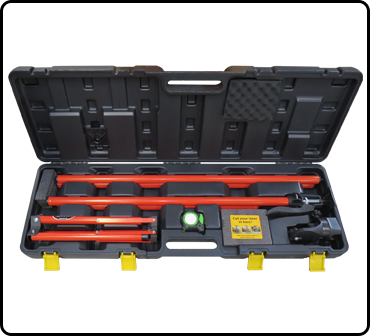 The Laserjamb LJ4 Pro makes the process of leveling anything from a cabinet to a picture frame fast, easy and accurate. It allows you to use any laser and position it from the floor to the ceiling with ease. No longer do to you have to create a reference line and measure off of it. Simply position the laser exactly where the work is. It eliminates pencil lines, chalk lines, and a level and allows both of your hands to be free so you can work more efficiently and accurately.
***Does not include a laser; works with most compact lasers. The LaserMount has a 1/4"-20 mounting thread***
SKU:
Price: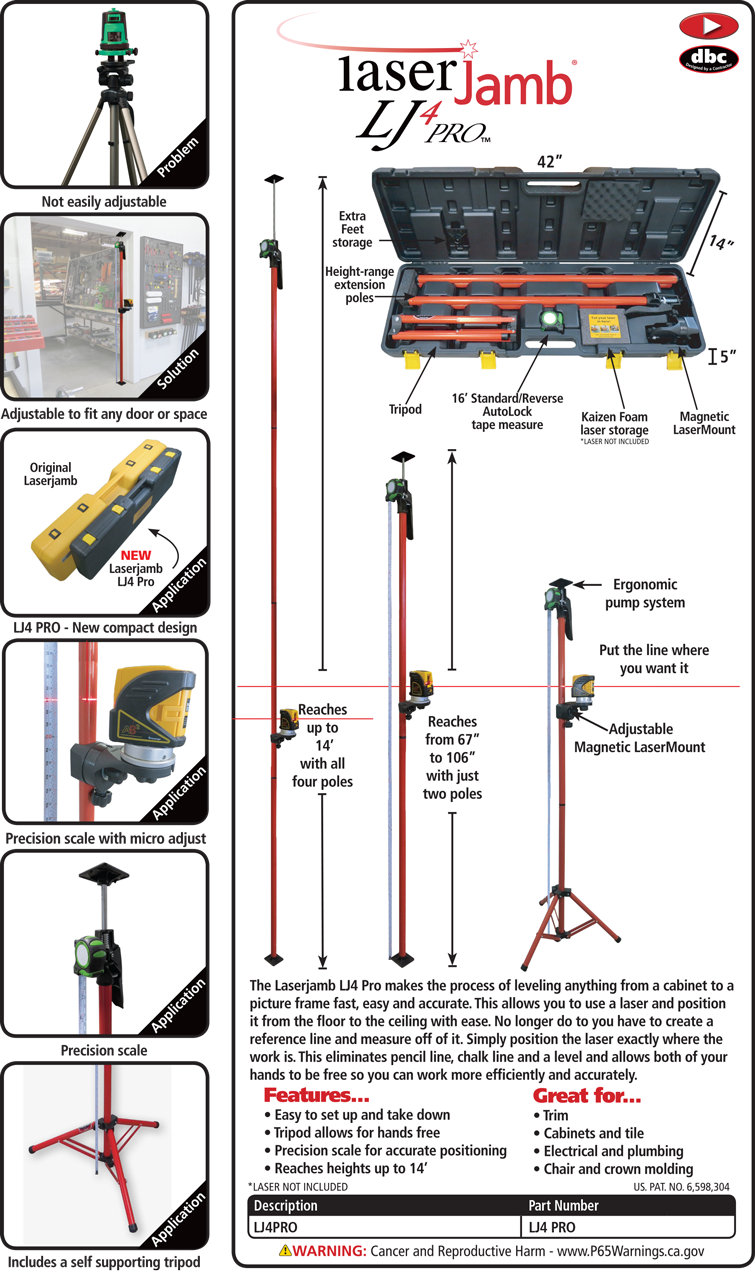 Average Ratings:





4
Write a Review
---
"not impressed"
Review: I love that I can use this as a free standing tripod or floor to ceiling mount. Locking the laser in usually moves the laser from where it was positioned. I would rather have the locking in that the LJ2 had, slide it where you want it & turn the knob

Response: Appreciate the feedback!
---
"Quality unit with great diversity."
Review: This is a good tool and for the price comes with a lot of options and is very diverse. I love the laser mount, it is very adjustable and holds the laser securly. It's build quality is very good. After using it for about a week I recommend the product. I have found a few issues: 1. When securing to an 8ft. ceiling you need to extend the jack part of the Laserjamb over 12'. The pressure of securing the tool causes the poles to bow slightly. This makes it difficult to level. 2.The sections where the pole screws together protrude past the poles making it hard to use a level to plum it. (You need a small level) It would be nice if they added an integrated level to the Laserjamb main pole. Overall, very good laser level mount.

Response: We have fixed the crooked pole issue. We will be swapping to a steel insert that threads the poles together. We also fixed the cut out in the case so it will properly fit the laser mount now. This should fix the leveling problem.
---