ProCarpenter Easy Half Tape Measure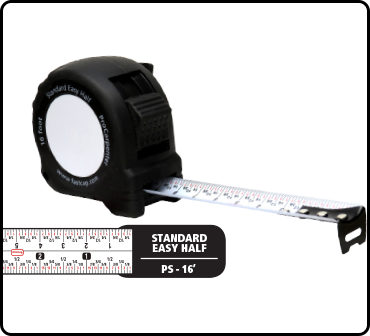 The Easy Half Tape Measure will find the center of any board in seconds. The printing has two scales on it. First measure the full length of your board with the standard scale, and then find the same number reading on the "half" scale, and that will be the exact center of your board!
SKU:
Price:
Average Ratings:





2.5
Write a Review
---
"IMHO, you should copy the Lufkin self centering tape."
Review: Thanks for the reply and explaining what the center finding process of this tape is. I still feel like the half scale should be directly below the full scale. But ill keep using and see if I find another reason why your layout is better.

Response: Keep us posted. If you aren't happy, you can return it for a full refund!
---
"Overly complicated or am I missing something"
Review: I had an orange tape measure by Lufkin that did this same feature, but in a much simpler way. Under the number 3 was 1 1/2" etc etc.. with this tape you have to measure your board (p.s. the standard scale is upside down), then go looking for that number half way down the tape, and then look accross to see what half of that is. I was hoping for a fastcap version of the orange self centering lufkin tape i got at home dep. If im missing some other benefits of this Easy Half tape, please point them out.

Response: The point of this tape measure, is rather than doing math for you (which is what it sounds like the Lufkin does) – ours completely eliminates the need to do any math. Simply measure your entire board, and whatever exact measurement you read for the full size of your board, find that exact number on the "half scale" – and where that number shows up IS the center of your board. – So one extension of the tape measure – read one number, find that exact number, mark the center, retract tape measure, and DONE! – no math AT ALL! – Does that make sense?
---