Skins Gloves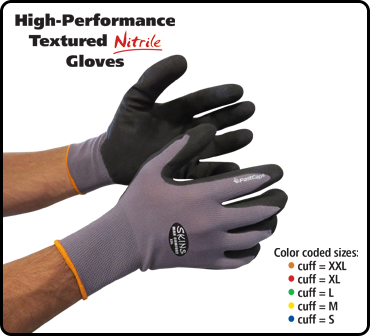 Skin Gloves are the ultimate glove/hand relationship. Made of durable textured Nitrile rubber, these lightweight, seamless gloves have exceptional grip and are excellent for puncture and abrasion resistance. Will work on most touchscreens. May not be as responsive with a screen protector.
SKU:
Price: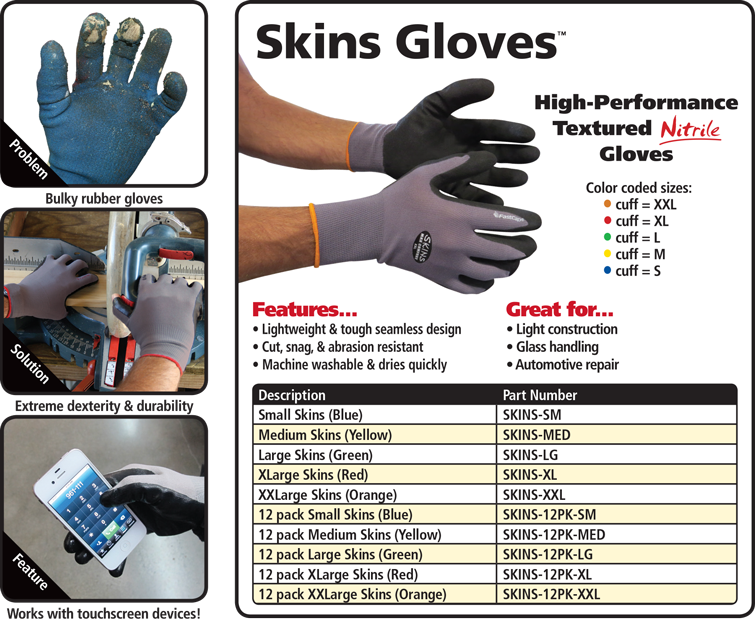 Average Ratings:





3.5
Write a Review
---
"Used to be excellent"
Review: Thank you for your response. Unfortunately, the nitrile gloves are now texturednot just the HD variety. Your current website photo shows so, as does the product packaging.

Response: We are swapping all the skins gloves to a new 13G nylon with a sandy nitrile coating. It is still the same thin glove, and should still work excellent for fine detail work, based on all our testing. The benefit is that the old skin glove (nylon with nitrile) did not perform well if wet or oily. The sandy nitrile coating is to improve the grip in wet or oily conditions. – It also prevents the "finger nails on a chalk board" effect the old gloves could have when rubbed on certain surfaces!
---
"Used to be excellent"
Review: I've been buying these gloves for years. Recently, however, they have been switched to a textured nitrile coating. Contrary to the excellent feel and grip provided by the previous thin, smooth coating, these are now bulky and inappropriate for fine work. The videos used for advertising on this page clearly show the old shiny coating.

Response: Sorry for the confusion Jacob. We have two different coating. The Skins HD are high-performance textured latex. The Skins are durable Nitrile rubber.
---
"Fits like a glove"
Review: The med. I got fit a little tight, but they don't ever cut off circulation. I use them for carpentry (no slip is great) and for painting. The Nitrile means I get almost no paint on my hands. Great when it's oil base stain. Seem to last and last. Next time I think I will order the 12 pack.
---
Read more reviews >