Skins Gloves HD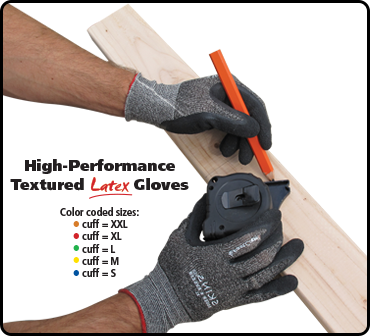 Our Skin Gloves HD are high-performance textured latex gloves that are snag, puncture and abrasion resistant. The latex provides superior grip in oily applications and yet these gloves are machine washable and dry extremely quickly. Also see our Skins Gloves
SKU:
Price: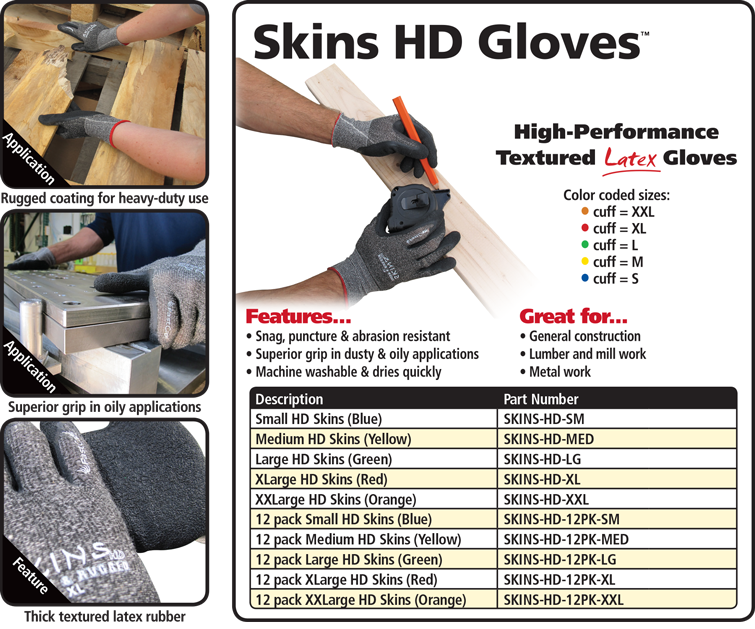 Why did you switch to 13G nylon with a sandy nitrile coating?
It is still the same thin glove, and should still work excellently for fine detail work, based on all our testing. The benefit is that the old skin glove (nylon with nitrile) did not perform well if wet or oily. The sandy nitrile coating is to improve the grip in wet or oily conditions. It also prevents the "fingernails on a chalkboard" effect the old gloves could have when rubbed on certain surfaces!
Would either Skin Gloves be good for working with glass?
Our Skins Gloves HD would definitely help protect your hands from glass, but would not necessarily actually stop you from cutting yourself. I would think you would want a pretty thick leather glove like you would use for welding.
Average Ratings:





5
Write a Review
---
"Awesome products!"
Review: Hi Paul, Just wanted to send a shout out to Fastcap for your amazing skins gloves! I work for one of your distributors, Custom Service Hardware in Cedarburg WI. Last summer I was doing some heavy duty work with a drill press in our warehouse while wearing the Skins gloves. During this process my hand was sucked into the drill while it was operating. It totally shredded the glove, but my hand was perfectly fine! Any other glove would have shredded my hand with it. Thank-you for your awesome products! Rachel
---
"Very Durable"
Review: I replaced the brown cotton gloves with the Skins HD in my Simms half finger gloves and have not been able to wear them out yet. The cotton gloves always wore out in a couple of days. Whether throwing bales of hay, hunting, or picking up a finish nail, no glove I have had yet can compare. The Skins are a good buy.
---
"gloves that actually fit"
Review: Good morning Paul. As a woman I have very small hands and finding a pair of gloves that actually fit is almost impossible, but of course there's Fast Cap to the rescue. Not only do these wonderful gloves fit, but I can feel what I am doing. Having my fingertips go all the way into the glove gives me a better feel for what I am doing without an inch of extra glove hanging out over the tips of my fingers. I feel secure when using my large power tools, i.e. my table saw, knowing I am not going to get the tips of my glove caught in the blade and end up chewing my hand off. I have not finished my shop yet so it was VERY cold out there this past winter which makes for your hands not being able to do simple tasks like starting a screw, but my new Skins HD Gloves help take care of that problem also. Once again Paul I can thank Fast Cap for another product that goes over the top in not only helping woodworkers , and others, complete projects with more confidence, but at a much higher safety level than any others I have found. I continue to be very satisfied with the quality every Fast Cap product I have purchased, but also the fact the you folks have kept our pockets in mind with your great low prices. You know the old saying, "You get what you pay for" well it's not true in the case of Fast Cap because you get more than you pay for when you buy from Fast Cap. O.K. I have rambled on once again and I am sorry for that, but I have so many wonderful things to say about this GREAT COMPANY. Thank you for listening to an old lady and a new woodworker who is a VERY happy camper. All my very best to all the Fast Cap Staff. Keep up the GREAT work. Pamela Newell
---