SoftWax Kit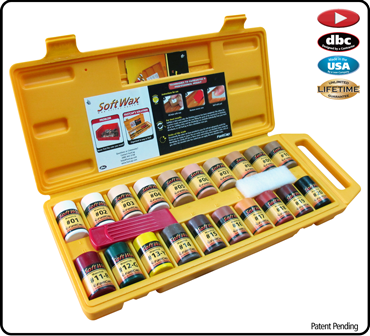 SoftWax is a great way to fill holes in finished woodwork! The refillable kit comes with 20 blendable colors, a WaxWedge and a buffing pad. The hard shell case keeps the wax where you want it, when you want it. Press here to order the SoftWax Refill Sticks separately (23 options). Press here to order the Buffing Pad separately. Press here to order the WaxWedge separately.
SKU:
Price: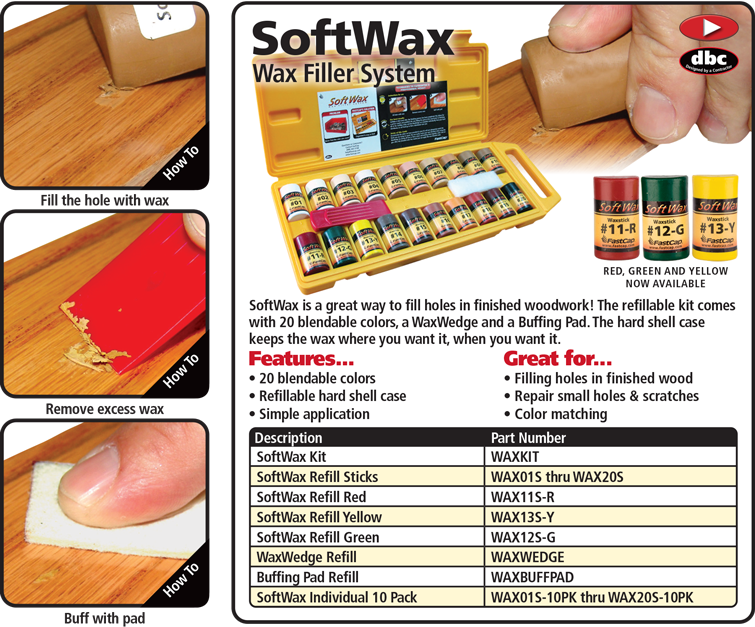 What happened to #11, #12, & #13 colors?
They were replaced with the more popular #11-R (red), #12-G (green), & #13-Y (yellow) sticks. They are still available but are sold individually. Go to our SoftWax Refill Stick page.
Average Ratings:





2
Write a Review
---
"Where's the cherry?"
Review: Most of our furniture has a cherry finish. I was quite surprised that of the 20 wax sticks there is nothing remotely close to a cherry finish. Do you have any suggestions on color numbers I could mix to get close to a starting point?
*Note - the colors are blendable. So you pick a color that is closest and then you add yellow and read until you blend it to the exact hugh that you need. Cherry can vary so much, but I would start with #16 or #19. See product video to learn more.
---