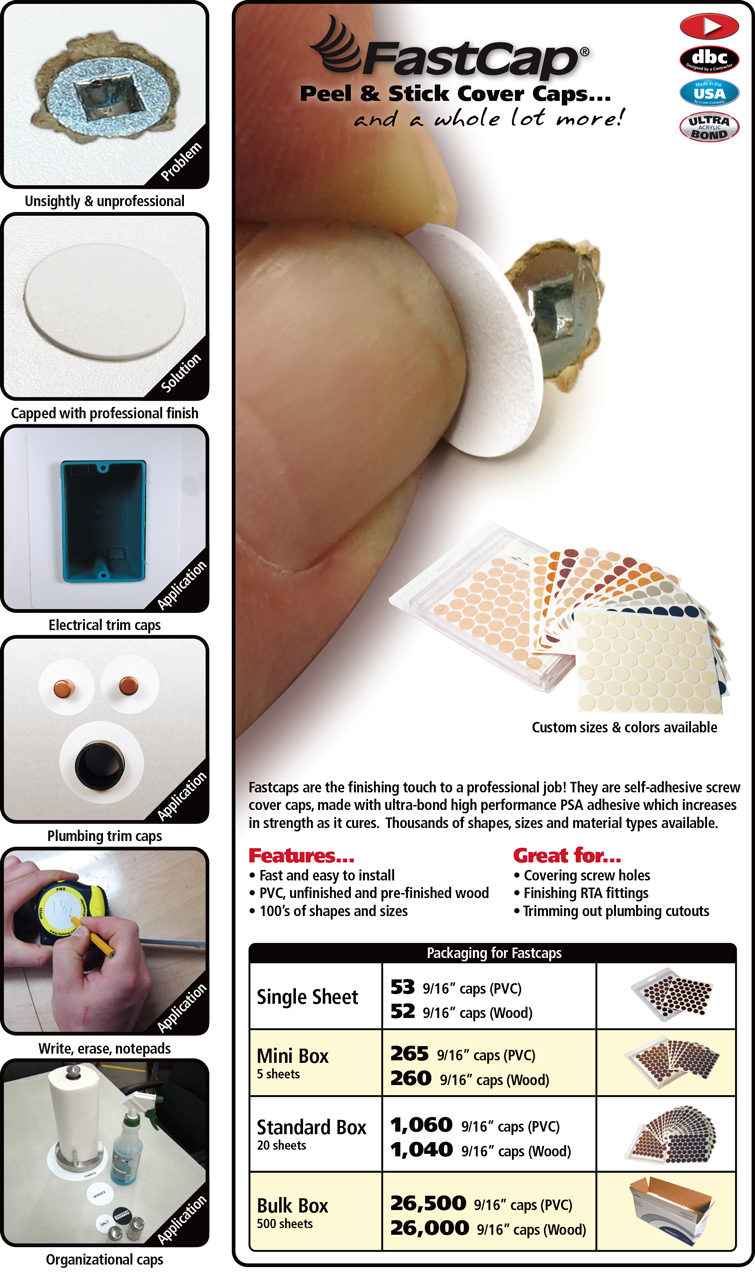 Set yourself apart...Fastcap™ is the finishing touch to a professional job! Fastcaps™ are self-adhesive cover caps made with high-performance acrylic Ultra-Bond™ PSA adhesive which increases in strength as it cures, providing a long-lasting permanent bond. Fastcaps™ are fast and easy to install and stick like a bad habit. Made of durable PVC, unfinished wood, and pre-finished real wood, they work in a wide variety of applications from covering screw holes and RTA fittings, to trimming out plumbing cutouts in sink cabinets. Want to make your own Fastcaps? Try our Custom Color Punch Tool.
Are any of your real wood Fastcaps rift cut, and if not can you get a different cut?
No, none of our Fastcaps are rift cut and unfortunately, we are not able to get a different cut because of the large quantity we would have to order.
How thick are your Fastedge and Fastcaps?
Our material thicknesses including the adhesive are as follows: PVC= .025" Unfinished Real Wood= .035" Prefinished Real Wood= .028".
I need to match a laminate for my project. Can you help me find a match to your Fastcaps and Fastedge?
We have 70 stock colors in our Fastcaps and Fastedge and we can also match custom colors for you. If you know the laminate or melamine brand that will make matching much easier. Call us at 1-888-443-3748 with the color information and we can see what we have available.
Is there a chance I could order Fastcaps in a nylon or UHMW plastic? I would actually need them in 3/8 diameter.
We cannot produce Fastcaps in any other plastic materials. If you are able to send us edge banding in a different material that is 5" or less wide and less than 3/4mm thick we can process the edging on our machines and turn it into caps. Or you can purchase our Custom Color Punch Kit that has a 3/8" die. The tool will punch through material up to 1mm thick, and the toolkit includes our double-sided speed tape to turn your material into Fastcaps.
Do you make custom caps?
Try our Custom Color Punch Tool.
I'd like to use Fastcaps outdoors to hide screws on a Pergola. Can they be used outside? Will they last?
PVC Fastcaps can be used for outdoor applications and will work fine. They are water-resistant and will withstand temperature changes no problem. The only concern with PVC is if they are in direct sunlight some of the colors will fade over time, similar to how plastic outdoor furniture will sun fade. The real wood ones will work ok but will behave like wood. So if you are using the raw wood it will absorb moisture, expand and contract with temp, etc.
Can you take FastCaps off whenever you want? Does it leave any marks?
Yes, you can take them off. If you take it off right away, it won't leave a mark. If you leave it on for a bit you will probably need to use a solvent to get off the mark...but it does come off.