Paulk Workbench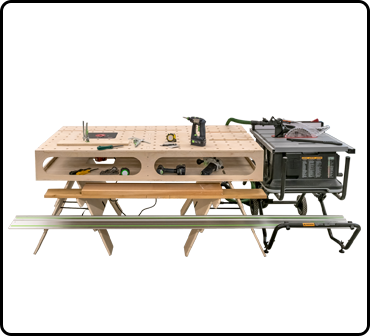 The Paulk Workbench is the most innovative workbench in the last 40 years. Strong, super light design, and engineered like the rib of an airplane wing. The flat stable surface, easy table saw/router accommodations, and easy portability; allows you to work efficiently while having all your tools just below the work surface. Made with super strong multi-laminated pine AC plywood this bench will last a lifetime and you'll never get tired of your friends and family marveling at its innovative design. Comes with holes or smooth top. Workbench dimensions: 36" wide x 72"deep x 39" tall

*This product ships via a large oversized pallet.
*Freight is included in the contiguous United States.
*You must be present the day of delivery and need additional help to unload. Pallet weighs approximately 130 pounds.

For other questions or shipping quotes outside the contiguous United States contact us at 360-752-2138 or info@fastcap.com.
SKU:
Price: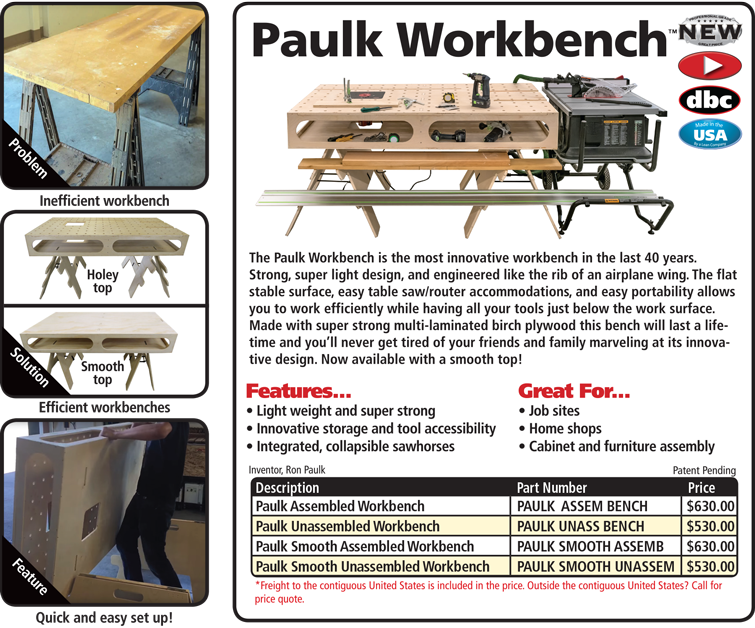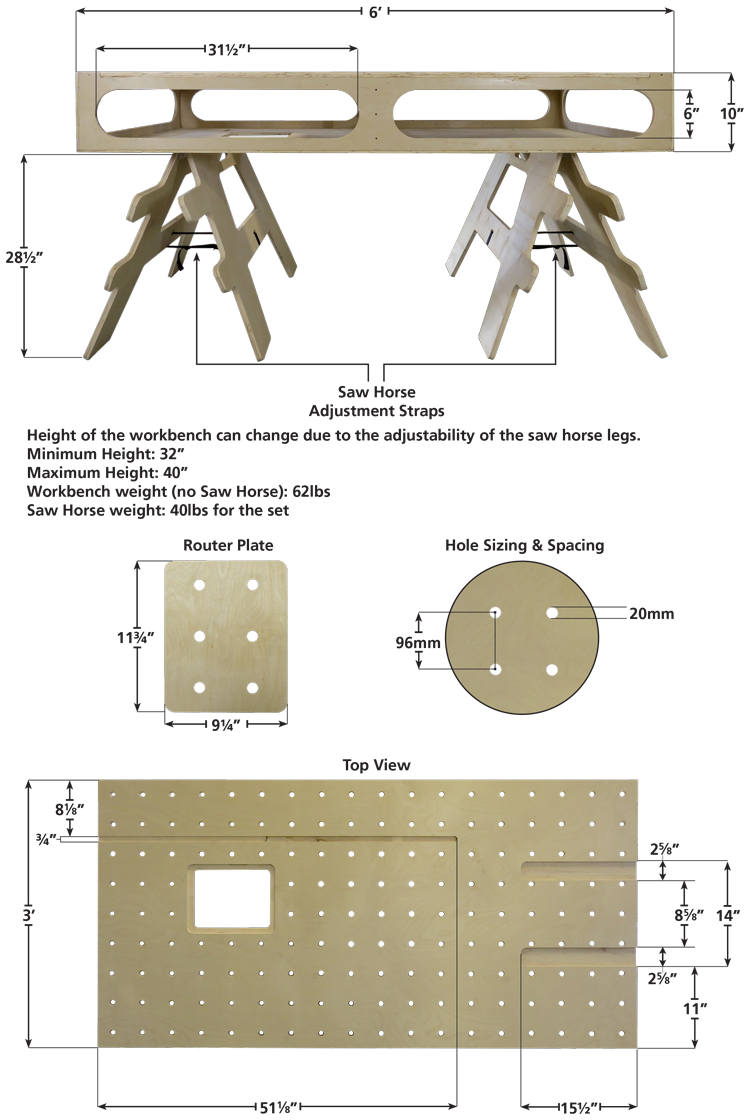 How do I assemble the Unassembled Paulk Workbench?
Watch this video and learn how. Assembling the Paulk Workbench
What size router plate will fit in the Paulk Workbench?
Anything that is 9-1/4" x 11-3/4" will fit.
Which router plates work with the Paulk Workbench?
Some of the following brands carry 9-1/4" x 11-3/4" router plates:
Incra Mast-R-Lift II
Peachtree
Jess Em
Rockler
Kreg
Can I buy just the top?
Yes, it is available. Please call to order (888-443-3748). We removed it from online ordering because we need to know which one to send you (if you want it to replace an existing top, or if you want a brand new one that fits Ron Paulk's online plan).
Average Ratings:





3.5
Write a Review
---
"Leong"
Review: Customer service 5 regarding helping me sort out ups freight and resolving my dissatisfaction with the product quality. Unfortunately, the dog holes are not as precision milled as festool mft/3 which was my need and expectation. The holes are consistently irregular shaped with a minor diameter of 19.6 mm and major diameter of 20.3 mm. For comparison, my mft/3 dog holes measure 20.1 mm in diameter and are uniform in shape. If you need extreme precision of the dog holes for alignment or for qwas dogs to fit nicely without redrilling the dog holes yourself, this is not for you yet. Hopefully fastcaps newly acquired cnc will be vastly more precise.

Response: Yes, this issue is now fixed with all new Paulk Workbenches.
---
"Paulk Workbench Review"
Review: "I started out thinking that I was going to simply write a review on this table and move on. I was impressed with the quality and flexible features of this table that it is going to become my new assembly / outfeed table for my shop." Press here to read the whole article.
---
"Paulk Workbnch"
Review: I bought the Paulk Workbench drawings a few years ago and planned on making a work bench myself but never got around to it. When I found out that I could purchase one I did and have been using it for a few months. It's fairly manageable and I enjoy using it as a project table during my remodels. I've also had time to use it for cabinet box assembly and an all purpose work table. I find it much more useful than a door slab or a plywood top on saw horses. Eventually I will build a shop and anticipate on using one there as well. I highly recommend it.

Response: Thanks Douglas!
---
Read more reviews >