Upper Hand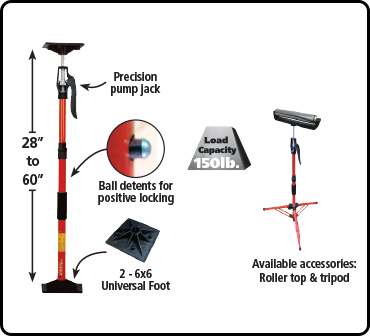 The Upper Hand is our versatile mid-sized 3rd Hand product. We made a middle hand for installing upper cabinets when the base cabinets are not in. The Upper Hand is also used with our Best Fence, Seat, Roller, and Tripod. Upper Hand measures 28" and extends to 60". Also available is the Upper Hand System which includes 2 Upper Hands, carrying bag, and 4 Universal 6x6 Feet. Check out all our 3rd Hand Products.
SKU:
Price: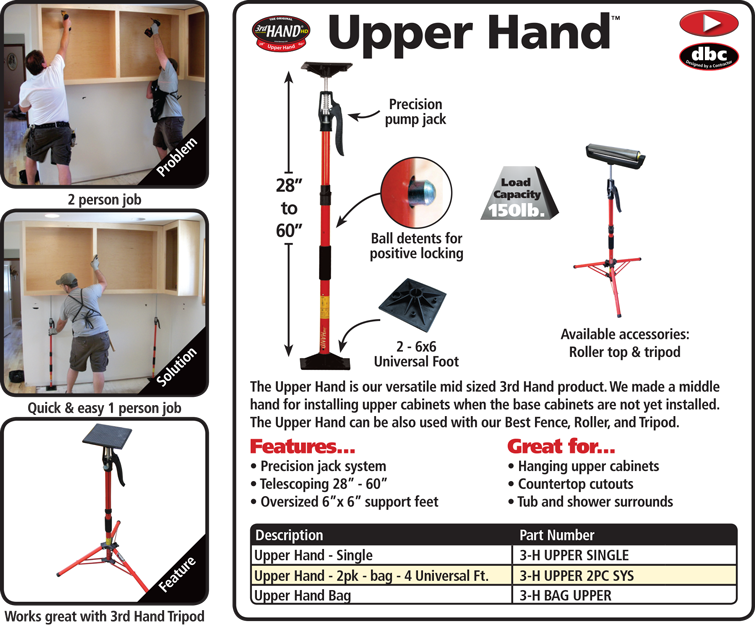 Material - Steel & ABS
Load Capacity - 150 lbs
Extension Range - 28 to 60 in
Outer Pole Diameter 1 3/16 in
California Residents:
WARNING! This product could expose you to chemicals including di(2-ethylhexyl)phthalate which are known to the state of California to cause cancer or birth defects or other reproductive harm.
For more information visit www.p65warnings.ca.gov
How do I attach the bottom foot to the red pole of the upper hand?
The Upper hand comes with 2 universal 6"x6" feet. These feet press fit on the top and bottom. The bottom press fitting is very tight. This is on purpose so the foot does not come off during use. It may require tapping onto the pole with a mallet the first time. It should loosen up a small amount after the first 1-2 uses, but does require some force to attach on first use.
Does the 3rd Hand come with a manual or have I lost it?
No, we don't have a manual for the 3rd Hand, but we have tons of great videos online that you can watch. Go the video tab to see all of our videos.
Is there a warranty for the 3rd Hand product line?
Absolutely! We will replace parts at no cost if possible or replace the whole tool if it cannot be repaired. We guarantee all our products. Please give us a call and we will get the replacements out to you right away. 1-888-443-3748.
I lost my little black 3" X 3" articulating feet for my 3rd Hand. Can I buy some extras?
No problem! Check out our 3"x3" Articulating Foot, Magnetic Dust Barrier Foot, and our Universal Foot.
I've broken the plastic "pump" handle. Can I purchase a replacement part?
Yes! All of our products are 100% guaranteed! Our 3rd Hand handles are very complicated to put back on, so what we do is just send you out a whole new 3rd hand for your convenience. You don't even need to return the broken one. Just give us a call at 1-888-443-3748 and we'll get one sent out to you! But first, try this.
How does the 3rd Hand HD help you meet these stringent Environmental Protection Agency (EPA) lead-dust containment laws?
New EPA-mandated legislation passed April 22, 2010. The new law requires contractors and other small entities to be certified to renovate or perform work on pre-1978 facilities due to the risk of lead poisoning. To learn more about the new law, please refer to the EPA Regulation Summary.

The 3rd Hand HD helps you meet these stringent Environmental Protection Agency (EPA) lead-dust containment laws when doing demolition or when renovating an older home that has lead paint. In fact, the EPA mandates that dust be contained when as little as six square feet of lead paint is disturbed in homes or facilities where there are children under six years old.

Go to www.epa.gov/lead to get details on the latest lead-safety rules and lead-safe work practices.

If you are interested in EPA Lead RRP Classes press here.

To obtain your copy of Renovate Right, a 19-page brochure, press here.
Can I cut down my pole?
For pole cut down information, press here.
Average Ratings:





5
Write a Review
---
"Love your products"
Review: Love your products. Use them every day with my remodeling business and as you know, they save me time and money. I use the upper hand almost daily doing engineered marble and granite showers. It appears the bag they come in has ample room to hold 4 poles. I'm curious if it's possible to get a bag that holds all 8 bases in the same way it holds 4 now. 4 on one side and 4 on another. I'd gladly buy another couple sets or just the bags if that were an option. Thanks for your time, Jason Knollman

Response: Thanks Jason. We'll make you a custom bag!
---