Jack of All Trades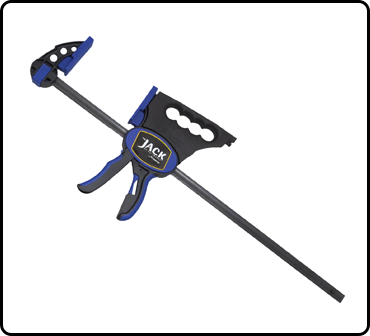 The Jack is great for lifting base cabinets to install shims or adjust leg levelers. Also use it as a clamp, lifting and installing entry doors, or use it horizontally to pull together hardwood flooring. Check out all our 3rd Hand Products.
SKU:
Price: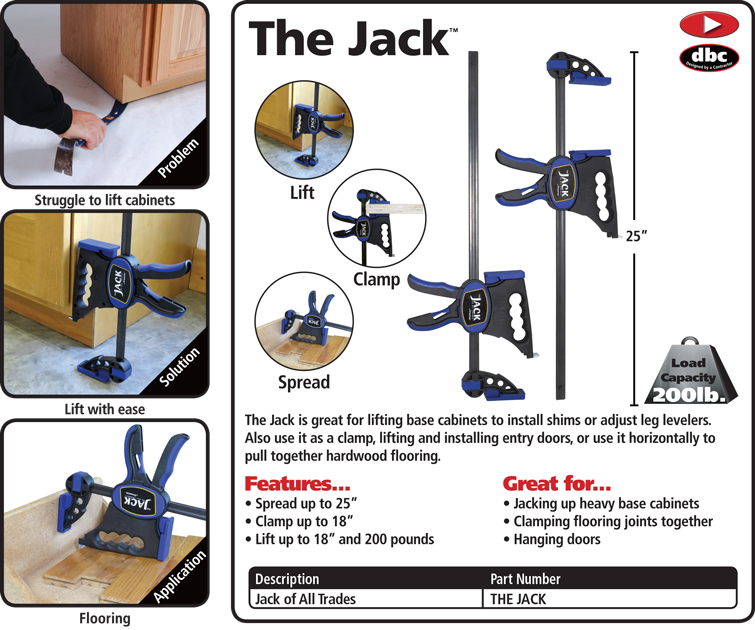 Average Ratings:





5
Write a Review
---
"A MUST HAVE"
Review: I install kitchen cabinets as my main gig. I love this jack & highly recommend it

Response: Thanks, Bob!
---
"Works Well"
Review: I have two of these. One really saved me on a job yesterday. Client had a rail-mounted closet system (EZ Closets, Martha Stewart) in a tight walk in closet. I noticed one shelf was not level, I thought someone else misplaced the pins on one side. Then I realized part of the support rail was not properly installed, and it was pulling away from the wall, and two of the adjacent vertical boards were sagging about an inch. I used one of these to jack up the vertical panels, (they don't touch the floor). I was able to install a 3" x 3" L-bracket under two adjacent verticals, with a very heavy duty drywall toggle. It would have been very difficult for another person to muscle the shelves up and hold them in place without this jack. Absent the jack; the closet would have to have been completely emptied out, taken off the wall, and the rail re-installed (easily a half day of work). Yeah, these things, like most good tools, are worth the price.
---
---