Disposal Jack Low Profile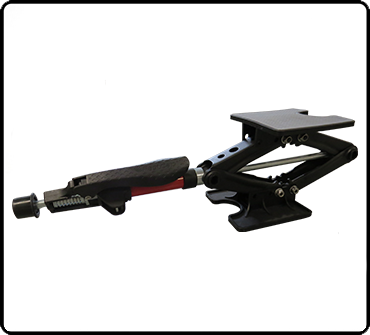 Need a hand? The Low Profile Disposal Jack gives you just that! It makes installing your garbage disposal so easy that you'll wonder how you ever managed without it. The Low Profile Disposal Jack rests lower than our standard Disposal Jack, giving you much needed clearance in those tighter than usual spaces. It also gives you hands free support under the garbage disposal while you install it. And as a bonus, it stores easier than the Disposal Jack!
Also see our
Disposal Jack
.
SKU:
Price:
4" to 13" of lift.
15lbs max lift weight
200lbs load max
Precision pump mechanism
Balanced construction
Approximately 24.5" long, 4" tall and 6"wide when compressed.
Weighs approximately 4.6lbs
2 Low Profile Disposal Jacks can be stored in a
3H Upper Bag.
Other uses (suggest by customers):
*great tool to install/uninstall booster heater for the combi oven kitchen equipment
*nice item to use when mounting items into a server rack by yourself
*would work as a router lift

Average Ratings:





0
Write a Review
---