Kliss Clamps
The Kliss Clamp and Kliss Clamp XL are innovative clamping systems designed by a cabinet maker. Kliss Clamp holds your panels upright so you can apply Fastedge, SpeedTape, or sand with ease, hands free! The Kliss Clamp XL is great for holding doors upright so you can mortise hinges and prep doors for installation.
SKU:
Price: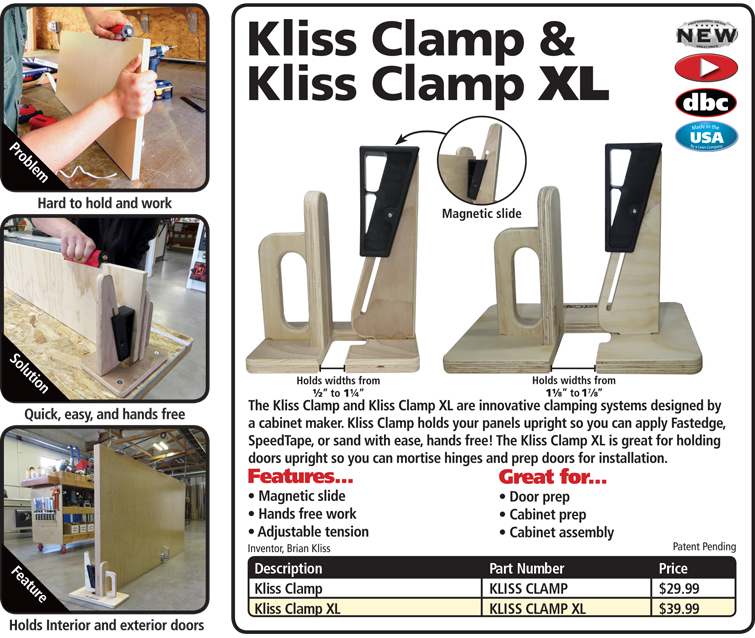 Could you sell a printable template for the ply parts?
We are looking into selling CAD files. Digital files are a whole new type of product for us so we want to make sure we do it right.
Average Ratings:





3
Write a Review
---
"cliss clamp"
Review: make one for up to 2'' thick for doors asap then will buy a few

Response: Thanks for your feedback. Due to so many requests, We are looking into a Kliss Clamp XL!
---
"kliss clamp"
Review: I haven't purchased this, and probably wont as it has unintentionally limited its usefulness. If it was able to accommodate up to 2" or more then it would be very handy for working on doors and multiple sheets at a time. Maybe a future release.

Response: Thanks Malcolm. A number of folks have asked for both this size and an XL for doors. We'll keep you posted on this.
---
"Kliss clamp for doors"
Review: Make one for doors and I"ll buy one. Or two. Probably buy one of this one too.

Response: Thanks Frank. A number of folks have suggested this. We'll keep you posted!
---