Kliss Clamps
The Kliss Clamp and Kliss Clamp XL are innovative clamping systems designed by a cabinet maker. Kliss Clamp holds your panels upright so you can apply Fastedge, SpeedTape, or sand with ease, hands free! The Kliss Clamp XL is great for holding doors upright so you can mortise hinges and prep doors for installation.
SKU:
Price: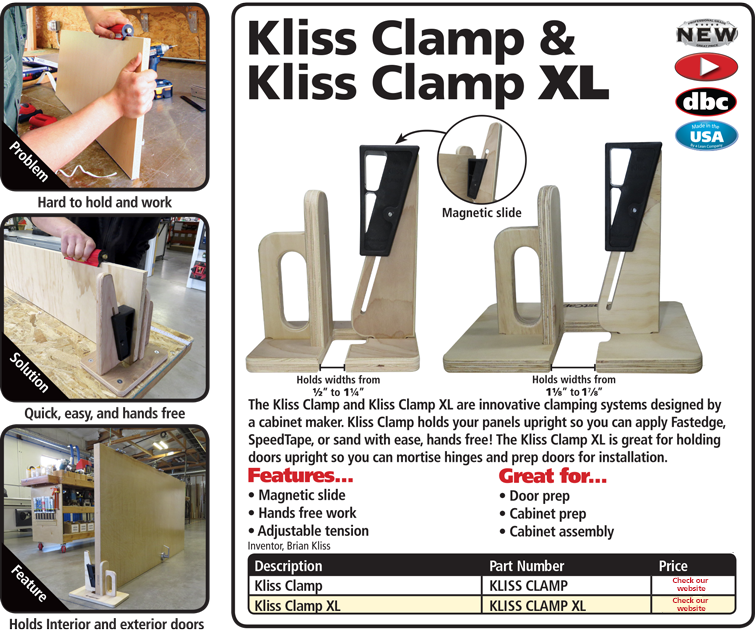 Could you sell a printable template for the ply parts?
We are looking into selling CAD files. Digital files are a whole new type of product for us so we want to make sure we do it right.
Average Ratings:





4
Write a Review
---
"I might be biased, but..."
Review: I used to use these exclusively for applying Fastedge, but then after developing the clamp with Fastcap and having a couple extra around, I started using them to nail up cabinets, route shelves on edge, and more. So much better than using a cumbersome screw clamp on edge and way more stable. And now a Kliss Clamp XL for doors is available also!

Response: Great ideas, Brian!
---
"Bought one, good decision"
Review: I do a lot of tall book shelves, and other case work. Had been meaning to throw a jig of some sort together to do the same thing. Somehow I never get around to it and then I need it and wish I had taken the time to make one. Bought two of these and used them for the first time last week. Couldn't ask for more. They worked great for me and I highly recommend for anyone assembling case goods who need a third hand.

Response: Love hearing this. Thanks Lou!
---
"cliss clamp"
Review: make one for up to 2'' thick for doors asap then will buy a few

Response: Thanks for your feedback. Due to so many requests, We are looking into a Kliss Clamp XL!
---
Read more reviews >