SpeedRoller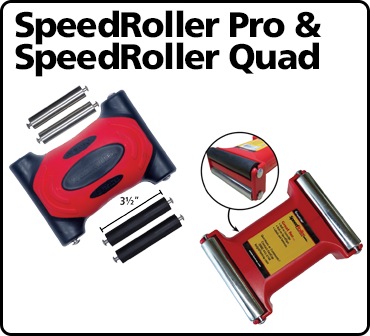 The SpeedRollerPRO and SpeedRoller Quad are an ergonomic laminate rollers that can be used for any PSA application - especially Fastedge & SpeedTape. The SpeedRollerPRO includes 2 sets of interchangeable wheels. The SpeedRoller Quad has all the wheels attached and is ready to roll.
SKU:
Price:
The rollers are 3-1/2" long.
Average Ratings:





5
Write a Review
---
"saves the run off"
Review: What I like best about the tool over the J roller is the forgiveness if you run off the edge. With a J roller, if you run off the edge you will snap the edging off. With this roller it tends to roll onto the flat bottom, saving the banding . Keeping it flat is much easier.
---
"Spread pressure SO evenly!"
Review:
---
"Awesome Products"
Review: Hi Paul, I just wanted to share that I bought two more of your awesome products about a week ago through Westlund here in Minnesota. I bought your Macro trimmer and I also bought the Speed Roller Pro. These tools are awesome, I had been using a plain old side cutter before this and wow what a difference, plus it reaches across the edge banding. Very good tool and very solid, when you put this tool in your hand you know its going to work. Now the Speed Roller Pro, I have been using a J style Roller for a long time But when I seen this new little gadget (The Speed Roller Pro) I knew I had to try it. That is the slickest, fastest, easiest, and handiest Hand tool I have purchased in a long time. I use my tools for a living and when I started using that I could not believe the difference. You can actually control the Speed Roller Pro, where as the J Roller it controlled you. I also own your Custom color Punch kit, another awesome tool, very well built. I am a very firm believer of your tools Paul, keep up the great work. By the way those Blind Nails you sent me a while back I use them constantly in my finish room I will send you a picture some time. So keep up the awesome work, keep the new idea's flowing. Sincerely, Tim J. Ziegler ZIEGLER WOODWORK & SPECIALTY
---