Fastedge Build Page
What is FastEdge?
Color
Application
Pack Size
Videos
Reviews
Related Products
Q&A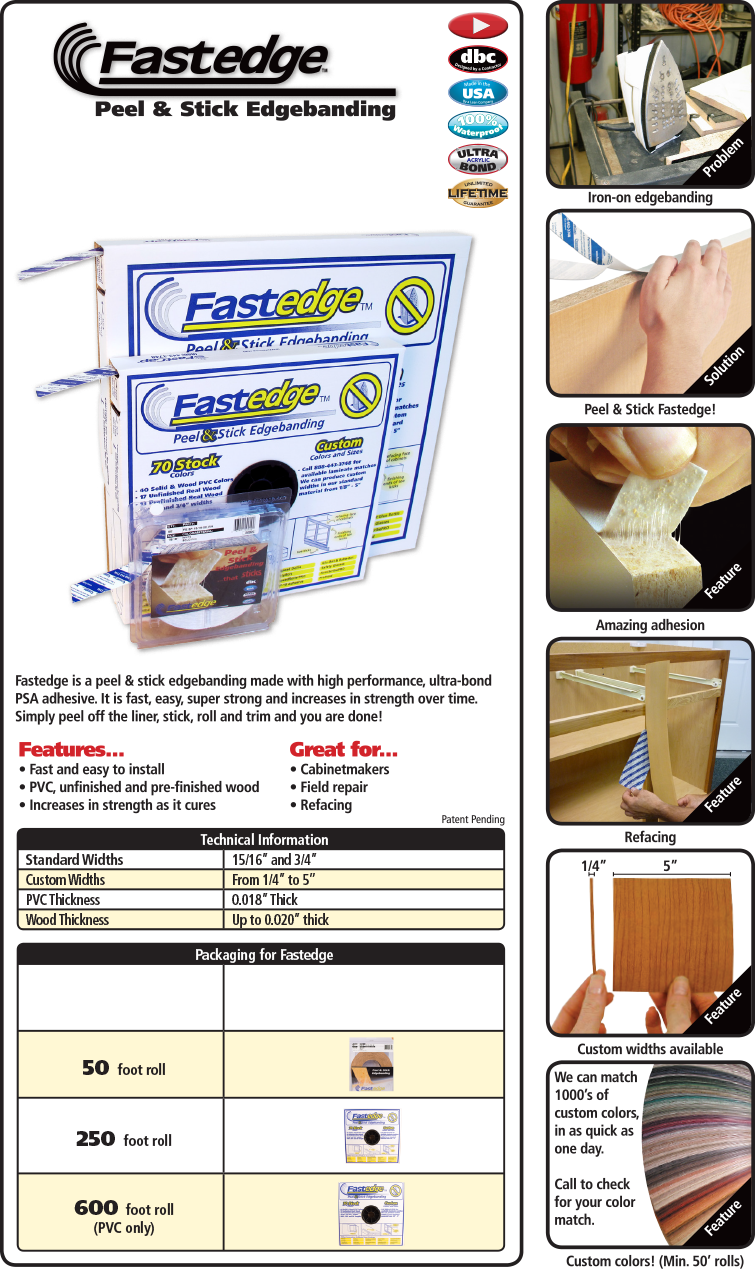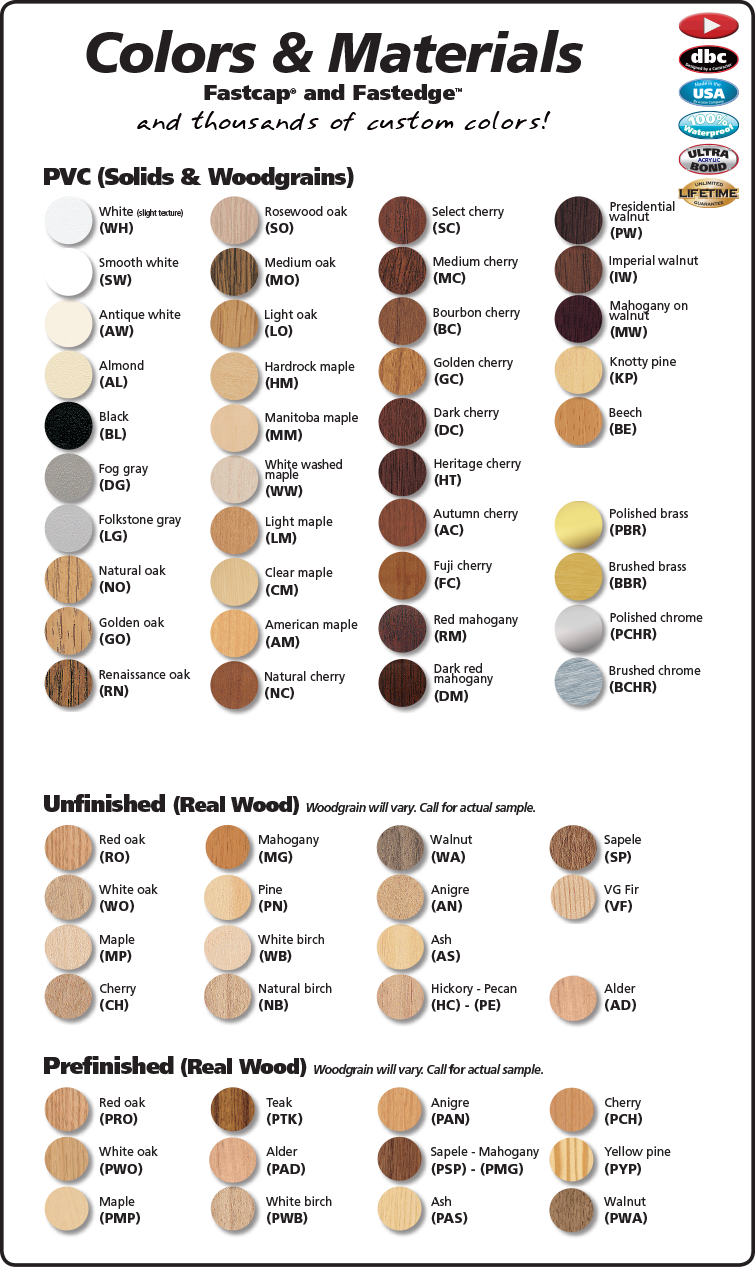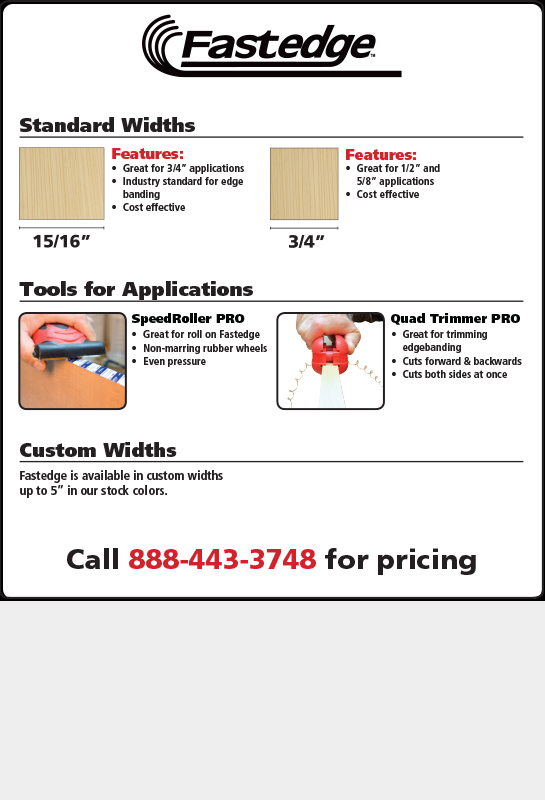 Average Ratings:





4.5
Write a Review
---
"pretty good stuff."
Review: for edge banding veneered plywood products i've used ripped solid wood (3/16" rips of 3/4" red oak, birch or maple), iron-on products, and fastedge. ripping solid wood is the most expensive but gives the best end result, iron-on products are good, easy to use and locally available and i've had satisfactory results, fastedge also gives good results. fastedge is super, gives a good result, but can be messy (adhesive difficult to sand down; debris sticks to everything) and when you get to the end of the roll of the natural wood products you find fracturing (due to tight radius of material at the end of the roll) which means more finish time. after using all these techniques to cover the edges of veneered plywood for my projects, i now stick with either the iron-on product (cheaper, just as reliable, and locally available at the 'big box' stores), or fastedge (more expensive and messier).
---
"How to Plywood Edging Using FastEdge"
Review: This is a fast and simple system that allows you to band (edge) plywood in minutes instead of hours. Much easier than ripping down wood and gluing and pinning to the edge. FastCap offers this edging in real wood (both finished and unfinished) and laminate including colors, wood grain and metallic.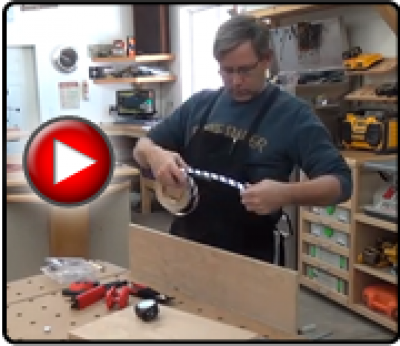 ---
How thick are Fastedge and Fastcaps?
Our material thicknesses including the adhesive are as follows: PVC= .025" Unfinished Real Wood= .035" Prefinished Real Wood= .028".
I am purchasing Fastedge for the first time. Is it better to buy a width that is bigger than the edge I am applying it to or should I buy the exact width I need?
It is best to buy a width a little wider than what you need so it is quick and easy to apply to the edge and trim it without having to stress about lying it down exactly right. We also strongly recommend watching ALL of our Fastedge videos (see the video tab). They are just a few minutes long and by the time you're done watching them, you'll be a Fastedge pro in no time!
I just applied Fastedge to my project and there is adhesive oozing from the sides. How do I clean this up?
You must be very careful when you are trying to clean excess adhesive off when using any kind of chemical because you run the risk of causing the Fastedge adhesive to fail and start curling up on the sides. Try using a razor blade to carefully scrape the excess adhesive.
I need to match a laminate for my project. Can you help me find a match to your Fastcaps and Fastedge?
We have 70 stock colors in our Fastcaps and Fastedge and we can also match custom colors for you. If you know the laminate or melamine brand that will make matching much easier. Call us at 1-888-443-3748 with the color information and we can see what we have available. We also sell a Sampler Pack, PVC Sampler Pack and a PVC Color Sample Chain.
Does Fastedge work on exposed MDF edge and ABS edging?
Fastedge will work on exposed MDF, but there are additional steps needed to prep the surface before application. You need to apply a binder coat of 50% contact cement and 50% lacquer thinner with a roller and then let this binder coat stand for 10 minutes before applying the Fastedge. Fastedge does not work well with ABS panels. We do not recommend using our product for those panels. The adhesive will stick for a short time but will end up peeling eventually as these materials are not porous so there is nothing for the adhesive to bind to.
Can you use Fastedge for 1/8" solid edges?
Yes, of course. You will have to order it wider than 1/8" – we don't sell it in less than ¼" (its easier to apply wider than the material and trim anyway). So make sure you pick up a Quad Trimmer as well!
How do you recommend flattening Fastedge?