Pocket Chisel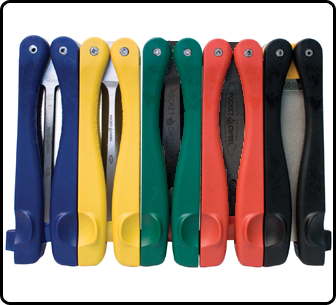 Tired of a dull chisel? The Pocket Chisels are made of precision tool steel and have a heavy-duty nylon handle that locks when opened and will stay locked so that you can hammer the hell out of it. Available in 1/4", 1/2", 3/4" and 1" blades. Also available are the Pocket Diamond Sharpener, the Pocket Putty Knife, and the Pocket Combo Putty Knife from the Pocket Tool Kit.
SKU:
Price:

Rockwell hardness of FastCap Pocket Chisels is between 56 and 58.

The blade of the Pocket Chisel is coated with Teflon.
Average Ratings:





5
Write a Review
---
"Pocket chisel"
Review: Outstanding tool. Very compact when folded to protect the edge. Easily fits in my work apron pouch and does not fall out as a standard chisel always did. I now will not have holes in the bottom of my pouch either. You can hammer away on the handle and it will take it. Holds an edge very well, especially since it is well protected. The different colors makes it easy to pick the right chisel you need for your work piece. Great, great product.

Response: Thanks Wally. Love hearing this!
---
---
"Practice Makes Perfect With Pocket Chisels"
Review: I always practice working with my tools before taking them to the site. Pro athletes don't just show up for work. Practice different ways of using your tools to get more familiar with them.
---
Read more reviews >