Pocket Chisel Kit / Pocket Chisel Tools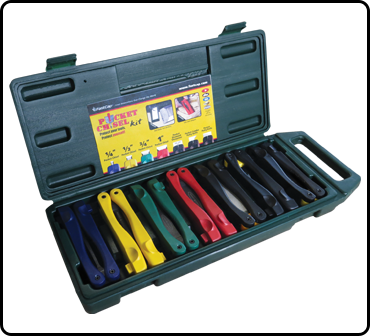 Tired of a dull chisel? Our Pocket Chisels are made of precision tool steel and have a heavy-duty nylon handle that locks when opened and will stay locked so that you can hammer the hell out of it. The Pocket Chisel Kit includes four Pocket Chisels in 1/4", 1/2", 3/4" and 1" blades, one Pocket Diamond Sharpener, one Pocket Putty Knife and one Pocket Combo Putty Knife.
SKU:
Price:

Rockwell hardness of FastCap Pocket Chisels is between 56 and 58.

The blade of the Pocket Chisel is coated with Teflon.
Average Ratings:





5
Write a Review
---
"Ron"
Review: I have owned a 3/4" one for about 4 or 5 years. I carry it, and use it all the time. The blade is about 1/2 the length it was originally as this is about the only chisel I use for framing and such. It is absolutely indestructable, and one of the handiest tools I carry.
---
"Practice Makes Perfect With Pocket Chisels"
Review: I always practice working with my tools before taking them to the site. Pro athletes don't just show up for work. Practice different ways of using your tools to get more familiar with them.
---
"They are Indestructible"
Review: And just for fun!
---