The Remote Control Vacuum (RCV) makes you more efficient by removing the need to walk back and forth to turn your vacuum on. Simply attach the remote to the end of your vacuum hose via the hook & loop strap and get ready to save time and money.
THE RCV WILL NOT WORK WITH LARGE DUST COLLECTORS OR OTHER LARGE SHOP EQUIPMENT. EVEN DUST COLLECTORS THAT RUN AT 12 AMPS. THE MOTORS IN THESE COLLECTORS WILL PULL MORE AMPS WHEN TURNING ON OR UNDER STRAIN AND CAUSE THE RCV TO FAIL. THE RCV IS DESIGNED TO WORK WITH SHOP-VACS AND OTHER SMALL SHOP EQUIPMENT.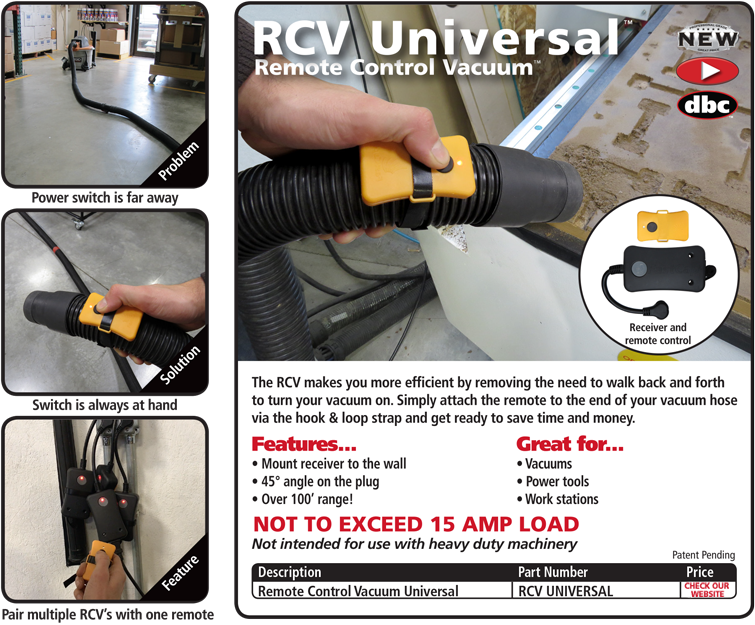 Great for:
Shop Vac's
Lights
Other small shop equipment
The remote comes with 1 CR2032 battery. These batteries are commonly available. If the light in your remote is becoming dim or no longer turning red you may need to replace your battery.
Will this work on 240v (Australia) or is it 110v only?
Sorry, 110v only.
I was surprised to not see you offering extra remote transmitters for your RCV Universal!
Because of how the RCV system uses a unique frequency from the remote to the body, which fixed the issue of it picking up stray signals, you cannot pair multiple remotes to the same body unit. They would need to have separate RCV'S. We are not selling extra remotes at this time as they would not be functional. At one point in the development process, we were hoping that multiple remotes could be paired with the same body unit but it ended up not being feasible.
My RCV stopped working?
The battery in the RCV should last for around 6months, but with heavy use, the battery can die more quickly. Have you tried changing the battery in the remote?
Can my RCV be used with a string of lights?
As long as the total current draw is less than 15A at 120VAC it's no problem. Edison bulbs are probably slightly higher amperage than most bulbs but still should be way under 15A total. RCV is FANTASTIC for Christmas lights!