Remote Control Vacuum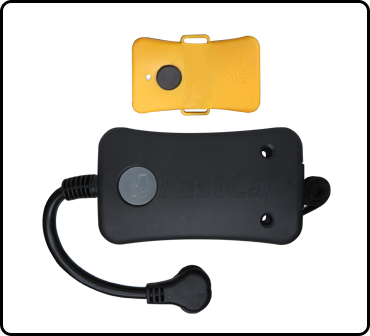 The Remote Control Vacuum (RCV) makes you more efficient by removing the need to walk back and forth to turn your vacuum on. Simply attach the remote to the end of your vacuum hose via the hook & loop strap and get ready to save time and money.
THE RCV WILL NOT WORK WITH LARGE DUST COLLECTORS OR OTHER LARGE SHOP EQUIPMENT. EVEN DUST COLLECTORS THAT RUN AT 12 AMPS. THE MOTORS IN THESE COLLECTORS WILL PULL MORE AMPS WHEN TURNING ON OR UNDER STRAIN AND CAUSE THE RCV TO FAIL. THE RCV IS DESIGNED TO WORK WITH SHOP-VACS AND OTHER SMALL SHOP EQUIPMENT.
SKU:
Price: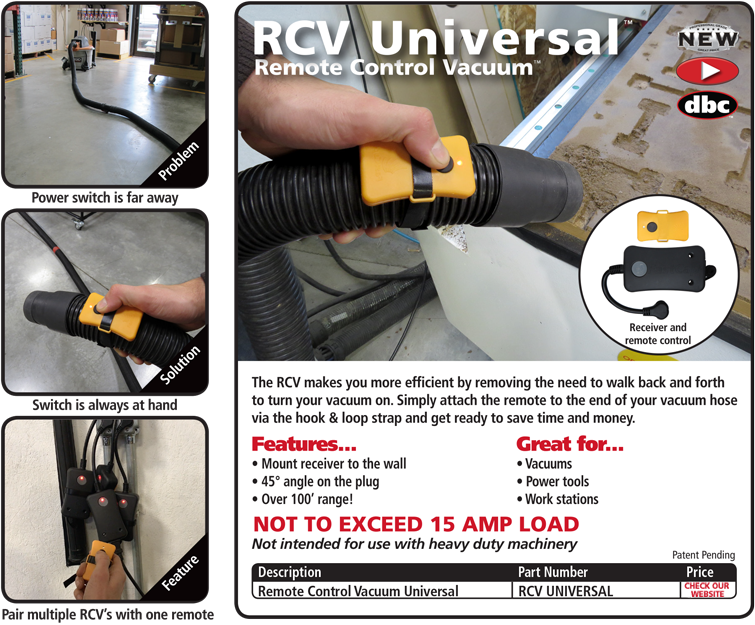 Great for:
Shop Vac's
Lights
Other small shop equipment
The remote comes with 1 CR2032 battery. These batteries are commonly available. If the light in your remote is becoming dim or no longer turning red you may need to replace your battery.
Will this work on 240v (Australia) or is it 110v only?
Sorry, 110v only.
I was surprised to not see you offering extra remote transmitters for your RCV Universal!
Because of how the RCV system uses a unique frequency from the remote to the body, which fixed the issue of it picking up stray signals, you cannot pair multiple remotes to the same body unit. They would need to have separate RCVS. We are not selling extra remotes at this time as they would not be functional. At one point in the development process, we were hoping that multiple remotes could be paired with the same body unit but it ended up not being feasible.
Average Ratings:





4.5
Write a Review
---
"Junk"
Review: The warning about it should have CLEAR BEFORE I bought it at the Woodcraft store and plugged it in to the dust collector. The dust collector was rated at 15 amps and the RCV was rated at 15amps. Is there a way to reset it?

Response: Unfortunately, the Remote Control Vacuum will not work with dust collectors. Even if dust collectors are rated to run at 15amps. When they turn on or are under strain, they will pull more amperage and the internal parts of the RCV cannot handle the surge. I apologize if the wording on the packaging did not make this clear. We will be updating the packaging to make it more clear. I would be happy to replace your RCV. But remember, it works with your smaller equipment like shop vacs.
---
"Great Idea - But"
Review: FastCap you are the Best! Your RCV is a Terrific idea. I use it attached to the end of a vac hose, attached to my wrist, and in my shirt pocket to keep it cleanwhen removing black carbon soot. I Love It. However --- the on/off button is to Easily bumped sometimes causing the the vac to turn on or off at inconvenient times. Any chance of adding a Raised Ring to the plastic case that would surround the button and help prevent accidental activation?

Response: Have you tried our new Universal RCV?
---
"Turns on by itself"
Review: Great idea, works but turns itself on every five minutes or so. Don't leave it unattended. I still think it's a good idea but needs made better. The rating of 3 is for the idea.

RESPONSE:
So sorry. Please contact Sandi (sandi@fastcap.com) for either a replacement or full refund.
---
Read more reviews >