Super Reel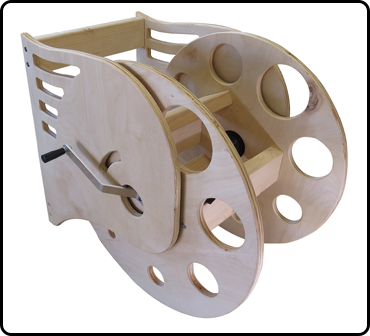 Finally, you never have to wrestle with your vacuum hose or shop vacuum again! The Super Reel is adaptable to any shop and can manage 10ft to 50ft of 2.5 inches vacuum hose. The smooth bearing design unwinds and rewinds in seconds. You provide one 2x4 and the 2.5 inches hose and everything else is included for a quick and easy, 20 minute or less, assembly and installation.
*Product is unassembled and requires assembly. Wood is unfinished birch plywood and may have some roughness.
SKU:
Price:
Dimensions: 23" High by 28" Deep by 16" for standard width (width is decided by user by cutting 2x4's to size)
Average Ratings:





5
Write a Review
---
"YOUR STUFF SUCKS ☺"
Review: JUST kidding!! ☺ Just ordered 2 super reels. I have been looking for something like this for years. Your 2 second lean has change my business, work place is cleaner and struggle reduced, but never ending process Thanks, Jim Rust

Response: Ha! Thanks Jim!
---