Super Reel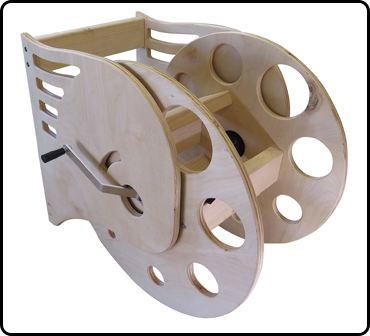 Finally, you never have to wrestle with your vacuum hose or shop vacuum again! The Super Reel is adaptable to any shop and can manage 10ft to 50ft of vacuum hose. The smooth bearing design unwinds and rewinds in seconds. You provide one 2x4 and the hose and everything else is included for a quick and easy, 20 minute or less, assembly and installation.
*Product is unassembled and requires assembly. Wood is unfinished baltic birch plywood and may have some roughness.
SKU:
Price: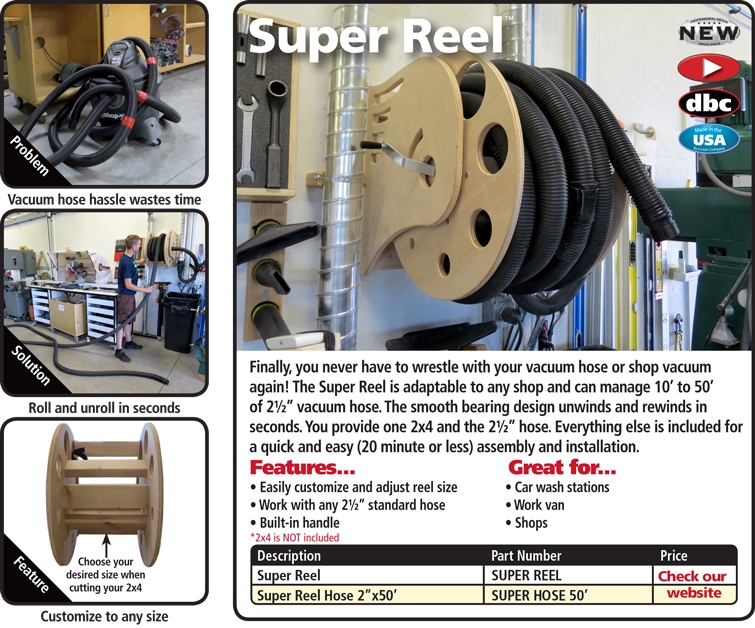 Dimensions: 23" High by 28" Deep by 16" for standard width (width is decided by the user by cutting 2x4's to size)
The new Super Reel Hose 2.25" (outer diameter) will work with the super reel out of the box. For the tightest possible connection electrical or duct tape can be used to secure the hose to the super reel coupling.
The 2.25" OD super hose will work with 2.5" vacuum hose attachments.
If you are using our super hose it fits inside of the swivel cuff coupling.
If you are using a 2.5" OD hose it fits outside of the swivel cuff coupling.
The super reel can be set up with the handle on the left or right side.
Written assembly instructions are included in the box.
50' Hose
For 50' of hose cut 2x4 into (5)13'' pieces and (2)15" pieces for 50' of hose
Will you be selling the CNC files? Love to buy it but shipping international is expensive.
Selling digital files isn't something we want to tackle right now.
Have you thought about just selling the hardware?
We are looking into selling a hardware kit.
How many feet of hose does it hold?
It is totally up to you! The longer you make the 2x4s, the more hose it will hold. We have found its roughly 10 feet for every 3 inches of 2x4.
Are you screwing into end grain?
Yes, but the pockets they sit in prevent the 2x4 from splitting.
Wish I could use this for my 5" flexible hose.
If you could find a 5-inch swivel cuff for the vacuum, it could be easily modified!
Where can I get 50' x 2" vacuum hose?
Look in the look in the drop-down ("make selection").
Average Ratings:





4.5
Write a Review
---
"Excellent !"
Review: This is one of those things I might have cobbled together myself, and not worked as well. The lightening hole arrangement is very clever, preventing the hose from unreeling itself by its own weight (make sure you align the hole sizes on either sided). Regarding the coupler: it is a very tight fit, requiring some effort with a mallet. Because of this, I suggest installing the coupler as first step.

Response: Thanks for the feedback, Kevin.
---
"Exceptional Product!!!"
Review: Love it! Easy to put together and works as described. I really like the off-balanced design as it prevents your hose from coming off the reel all at once. This is a product that is well thought out and shows the power of human Ingenuity. My only negative is the coupler used to connect your vacuum hose is a bit wonky. By wonky I mean it moves a bit when your hose is connected to it but this in no way prevents the unit from functioning correctly. Thanks FastCap for another excellent product!!!! Keep up the excellent work!!!

Response: Thanks!
---
"Hose Adapter does not fit"
Review: Like 2 of other reviews the hose adapter is too large for the hole. From your comment to the 7/18/2018 review, I expected that this problem would have fixed by now. Also, I had to drill out holes in the crank since the supplied bolts would not go through it.

Response: There is a new hose adapter but it is very tight in the hole. It is designed to be installed with a mallet. It functions better as a very tight fit. As for the hole in the crank, thank you for bringing this to our attention. It seems the entire current batch of crank handle have undersized holes drilled and we were not aware. We will drill them all out before shipping!!
---
Read more reviews >