Speed Skate
The Speed Skate allows you to move large & heavy materials around the job or shop by yourself. It easily supports 4' x 8' sheets of material up to 1-3/4" wide. Large wheels and ball bearings allow you to move boards without any struggle.
500lb. Capacity
Clip N Roll
The Clip N Roll was designed to move sheets of granite in tight quarters and narrow hallways with ease. Heavy duty ball bearing wheels allow you to move up to 500lb. slabs without any struggle.500lb. Capacity
Speed Dollie
Move awkward cabinets effortlessly with just one person. In just three easy steps you'll be done! The Speed Dollie can be used by anyone for moving heavy awkward items that you just can't move alone. No more calling for help with this on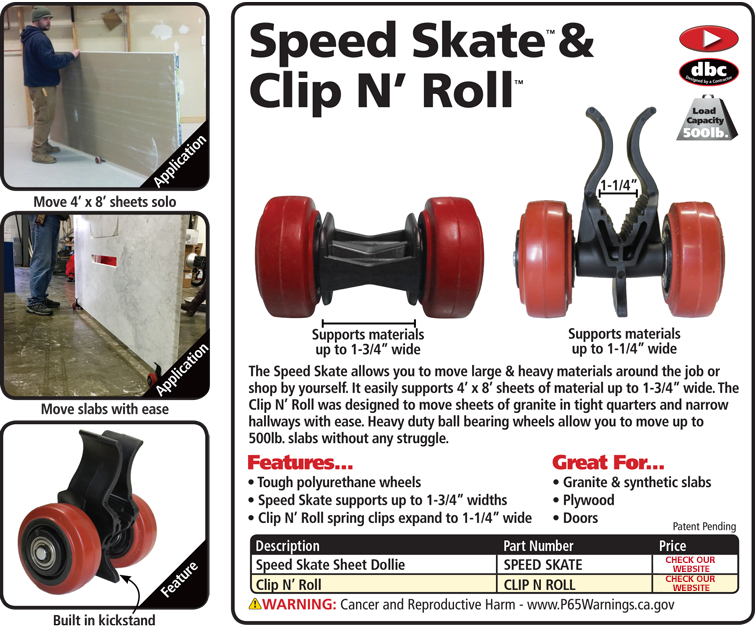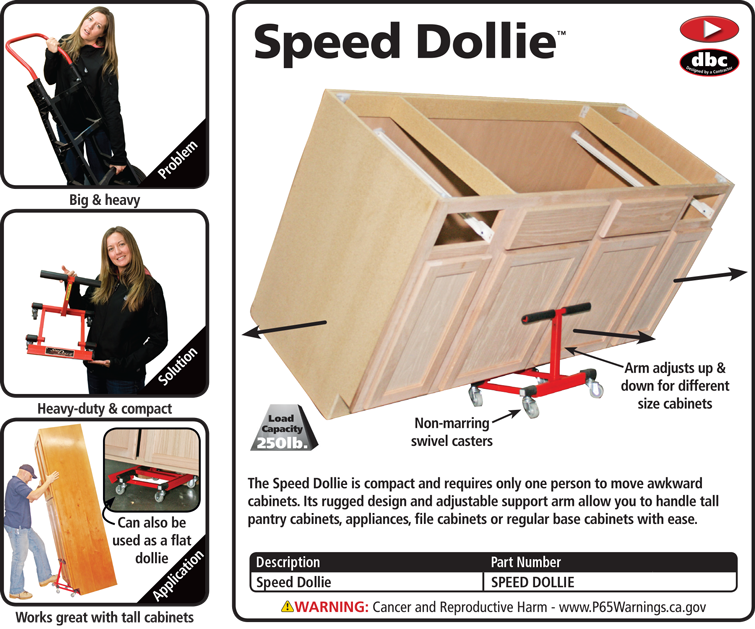 California Residents:
WARNING! This product could expose you to chemicals including di(2-ethylhexyl)phthalate which are known to the state of California to cause cancer or birth defects or other reproductive harm.
For more information visit www.p65warnings.ca.gov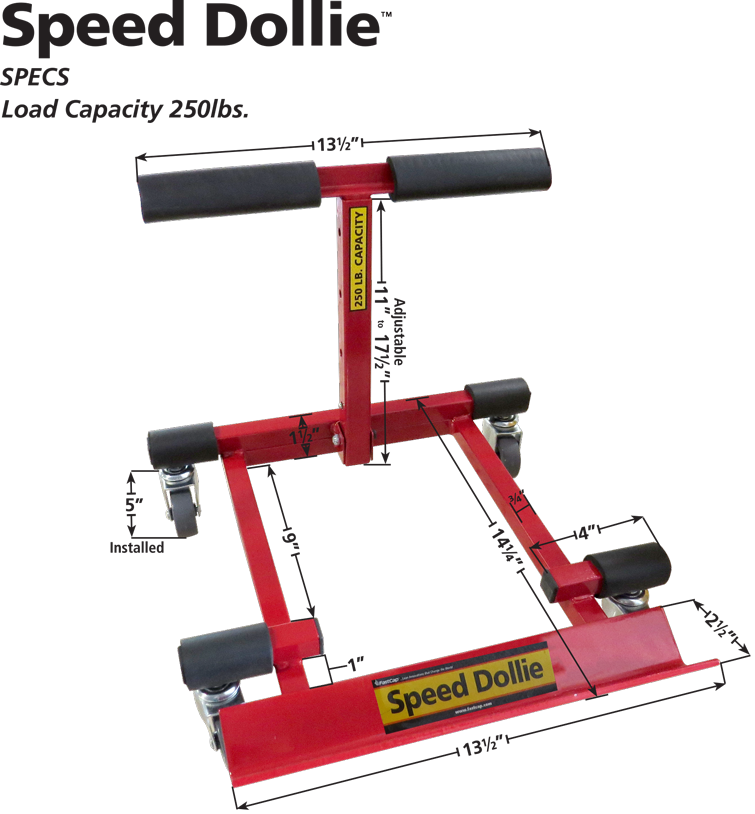 What is the difference between the Clip N' Roll and the Speed Skate?
The Click N' Roll is specifically designed for granite countertops; to be able to clip it on a countertop when it's laying flat on a bench and pick it up and set it on the ground and roll it into a tight area. With the Speed Skate, simply set on the ground and put a 3/4" piece of plywood or particleboard on it and roll it where it is needed.
Does the Speed Skate have to be in the middle or can I put 2 about a third of a way in?
It does not need to be in the middle. It can be 1/5 of the way into a board and still be VERY easy to roll around. I actually find it easier to maneuver through doorways if the board is not centered on the skate. You also might want to check out our Clip N Roll, design specifically for moving granite.
How is the Clip N Roll on 18 mm or 3/4" 4x8 plywood?
It will accommodate anything up to 1.25" wide. It works great for 3/4". There is no real minimum for the range...maybe 1/4" as it would be rare to have a panel less than 1/4" thick.
Will the Clip N Roll mark hardwood floors?
With a heavy enough piece of granite, yes it will mark up any floor. Whether or not it leaves marks is a function of the hardness of wood used on the hardwood floor, and the weight of the piece of granite used. Also the "kick stand" can mark up a hardwood floor if you are not paying attention when using it...but then again, so can a piece of granite, and MUCH more easily than the wheels or the kickstand. So yes, we recommend laying some plywood or similar over a nice hardwood floor or anything else you don't want to damage, whenever moving something like a piece of granite across it, regardless of whether using the Clip N' Roll or not!
Related Products