AccuScribe Pro
The AccuScribe Pro makes it easy to maintain a consistent scribe offset, staying parallel to the object surface every time. It is ideal for scribing trim on kitchen cabinets, architectural moldings, countertops, splash guards, tile and even flooring. Fits a standard pencil, Sharpie, or FatBoy Pencil.
SKU:
Price: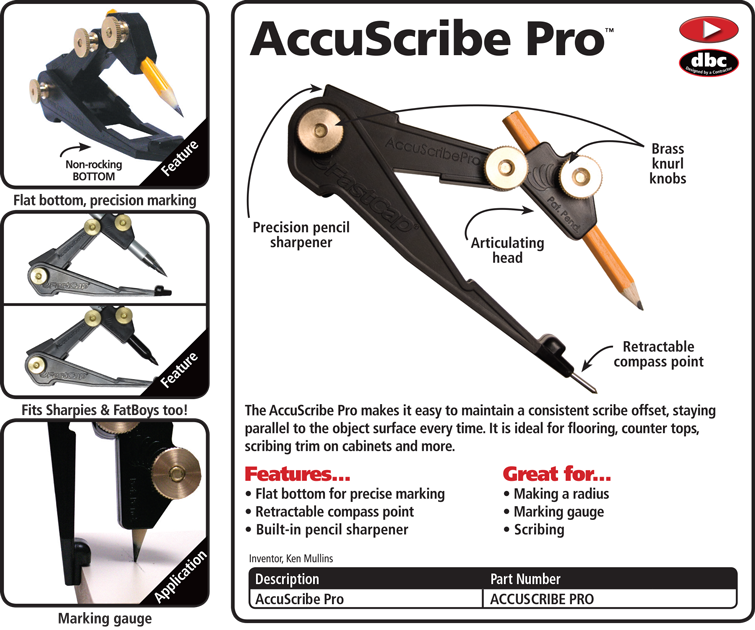 Average Ratings:





4
Write a Review
---
"Really?"
Review: For a company that prides itself on innovation Im a bit surprised. Metal pin slides out , pencil slides out. We some small attention to detail this would be a great product. Its a bit irritating when the metal pin keeps sliding out. But I give E for effort..should be 8 bucks with this kind of quailty.

RESPONSE:
Sandi will send you a replacement.
---
"Not as good as my last one"
Review: I am a high hchool wood shop teacher. I had some of these at my last school and got lots of use out of them. I just got some for my new school and am not as happy with them as before. It is still an exceptionally good designlots of valuable and useful functions. However.... (1) The point is not sharp enough. I had to grind it down myself. (2) The point is adjustable, but it does not lock down securely in each of the 3 positions. With even moderate pressure, it pops out of detent that holds it on place. I have taped it into the middle position, but that means it is not fully retractablenot good. (3) Finally, the pencil holder has been changed. It has a sleeve, presumably to accommodate a larger than standard pencil. However, the new clamp system does not hold the pencil securely! I had to shim the sleeve and install it up-side-down to get it to work. Not Good! This is too good a tool design to allow it to become mediocre due to poor manufacturing. Please fix it.
---
"Beautiful"
Review: Everything about this is perfect for the job it needs to do.
---
Read more reviews >