Long Nose Marker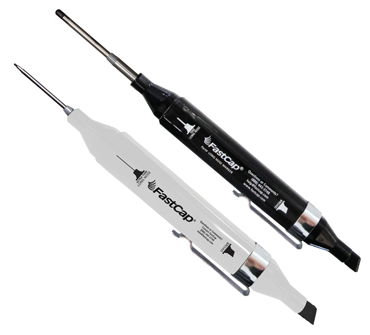 The Long Nose Pattern Markers solve all your tricky layout problems. The BOLD 2MM TIP Marker has a 1-7/8" reach and makes bold lines for easy visibility, especially on our Kaizen Foam. Available in Gold, Silver, and Black.
The NEW Long Nose Pattern Marker THIN has a 1MM TIP and a 1-1/2" reach. The fine point tip is great for marking inside holes, along walls, and cabinets. Available in Black.
Both markers have a wide chisel point. Permanent & waterproof, it will be your go-to marker for any job.
SKU:
Price:
Colors - Long Nose Marker:
Average Ratings:





4
Write a Review
---
"Have to watch the video"
Review: I had one that long tip dried up in one day... FastCap sent me the YouTube video (Acetone on the tip) and two new markers. great customer service

Response: Love hearing this, David!
---
"Snowberger"
Review: Works great, but it leaves permanent marks on my tools. Since these are brand new tools, and they are NOT MINE... I cannot figure out how to remove the marks... Might have to buy a new one, to replace.

Response: It's a permanent marker. The idea is to leave permanent marks on whatever it draws on! I Glad it's working fantastically for you! (Note: there are all sorts of recommendations for removing permanent marker on the internet)
---
"Helpful"
Review: Great marker to use with Kaizen foam. Would rate it 5 stars however the marker runs out quickly.

Response: Sorry you are having issues with our marker. I do have some tips to share with you to get the ink to last longer, occasionally there are problems with the long nose side drying out when there is still ink left. If your long nose tip is not working, but the large tip on the other end still has ink, there are two things you can try. This 90 second video shows both of the methods you can try to get the ink flowing again: https://youtu.be/E88442Kk_qc​ It that doesn't work, contact Sandi (sandi@fastcap.com) for a replacement.
---
Read more reviews >