Sharpie Holster
The Sharpie Holster is a nifty little tool designed to make using a Sharpie on the job easier and more efficient. Fitted with a belt/pocket clip and two bench and table mounting options, your Sharpie can now easily be capped and uncapped with one hand, saving you time. The cap simply clips into the holster and then to your pocket or table, keeping your sharpie right where you need it.
SKU:
Price: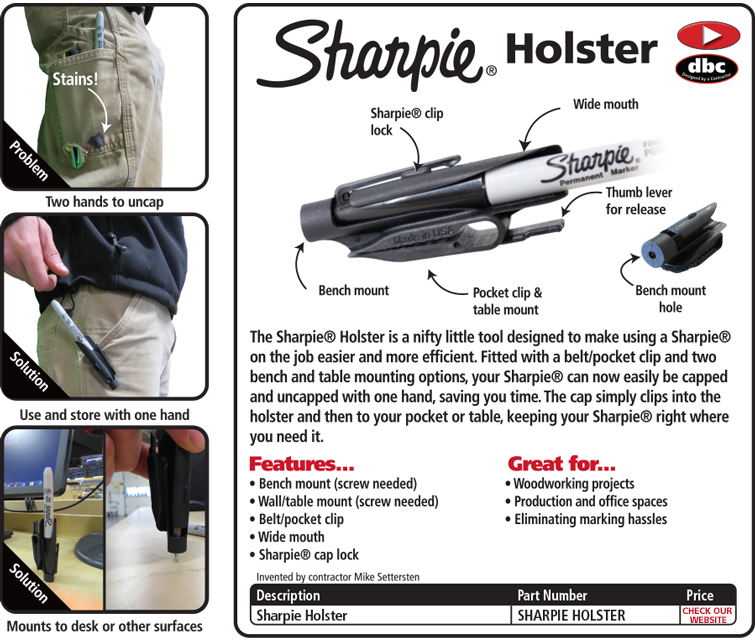 Can you get the lid back out?
Yes, you just have to lift the clip on the lid and then rotate back left and the lid will come right out!
Will it work with the Milwaukee Inkzall markers?
Sorry, no.
Average Ratings:





5
Write a Review
---
"Awesome Product!"
Review: I don't know how I lived without this product! I put on my sharpie holster first thing when I arrive at the shop and now I am always ready to label a part, tool, cabinet, or anything else I come across all with the ease of one handed operation. Thanks FastCap!

Response: Love hearing this. Thanks Ken!
---
"Alternative Sharpie Cap"
Review: I love this thing. I own a few of them, some I have mounted so my marker has a home and is ready to conveniently use when I need it. But what I most like about it is having it clipped on by my side for quick one handed accessibility. For the price this Item is a 5+ star rating.

Response: Thanks David!
---