FatBoy Pencil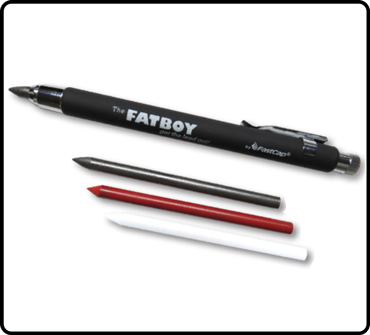 Never break your lead again with the FatBoy Pencil. It combines the utility of a mechanical pencil with the strength of a carpenter pencil. Easily sharpens in a standard pencil sharpener and this unbreakable 5.5mm lead stays sharp longer.
SKU:
Price:
Has the built-in pencil sharpener always been inside the FatBoy lid?
No. It was an added enhancement.
Does the FatBoy Pencil White work on fabric?
It works ok, but not amazing. Honestly, regular chalk might work better and regular chalk is easier to wipe off of fabric.
Average Ratings:





4
Write a Review
---
"Great Tool"
Review: I would like to give the Fat Boy a "5" because it is such a great product. However as the lead gets shorter it doesn't want to come out of the body. Is there something I can do to resolve this? Keep up the good work.

Response: I'll have to play with it and see what I figure out. I've never heard of this.
---
"Eraser Issues"
Review: I bought a FatBoy at Duluth Trading company. The part that hold the eraser falls off the top of the pencil. I have owned this pencil for only a few weeks. Did I buy a broken pencil from Duluth? If I turn the pencil over the metal pieces that hold the pencil sharpener and the erase fall out?

Response: Sounds like the threads are stripped out. Contact Sandi (sandi@fastcap.com) and she'll send you a new one.
---
"Teacher's Pet"
Review: This is my favorite FastCap layout item. It's clean, doesn't roll around a work surface and stays sharp for quite a long time. Adding the functionality of being able to sharpen in any pencil sharpener AND easily changing out the leads/crayons is a huge benefit. The Scouts clamor for these at each Woodwork Merit Badge I teach - so I have started giving them away as an award to the best overall leader and champion at each event.
---
Read more reviews >