FatBoy Pencil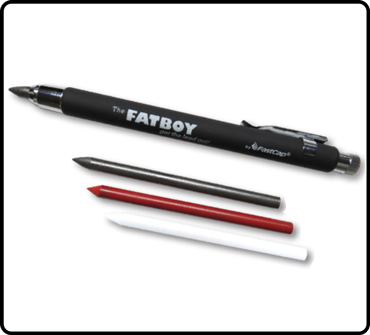 Never break your lead again with the FatBoy Pencil. It combines the utility of a mechanical pencil with the strength of a carpenter pencil. Easily sharpens in a standard pencil sharpener and this unbreakable 5.5mm lead stays sharp longer.
SKU:
Price:
Has the built-in pencil sharpener always been inside the FatBoy lid?
No. It was an added enhancement.
Does the FatBoy Pencil White work on fabric?
It works ok, but not amazing. Honestly, regular chalk might work better and regular chalk is easier to wipe off of fabric.
How do I get a few more erasers?
Send your contact information to shoppingcart@fastcap.com.
Average Ratings:





4
Write a Review
---
"Fatboy pencil"
Review: Great pencil I'm replacing the original one I had stolen. They write great but this time I have had to return the last one because the sharpener wasn't leaving a point it was more rounded over. The current one I have I bought online this time hoping it would be better but the eraser keeps falling out when I turn it upside down. I love this pencil but the quality control is poor.

Response: Sorry for the issues you have experienced with your FatBoy pencil, but I am glad to hear that you enjoy using the product. The issue with the eraser is a manufacturing defect that we are aware of and have corrected, please let me know your mailing address and I will send you a small container with replacement erasers of the correct size at no charge. Our sincere apologies.
---
"Great pencil, slight flaw"
Review: Pencil works fantastic, nice thick lead, easy to sharpen and seems to stay sharp. Have a had a few people comment on how nice it is. My only issue is that i also ordered a refill pack (3 leads and 3 erasers) and seems like the replacement erasers are a smaller diameter, they fall out of the pencil immediately.

Response:Sorry for the issues with the FatBoy refill. I will help you get this taken care of. This has happened once or twice in the past where there is a defect in manufacturing and the erasers are made too small, and we offer our sincere apology about that. I would be happy to send you replacement erasers at no charge. just let me know the address you would like them to be mailed to, I will test them myself before they go out to make sure they are perfect. Let me know if there is anything else I can do for you at this time, Kind Regards, Thomas (shoppingcart@fastcap.com)
---
"Great Tool"
Review: I would like to give the Fat Boy a "5" because it is such a great product. However as the lead gets shorter it doesn't want to come out of the body. Is there something I can do to resolve this? Keep up the good work.

Response: I'll have to play with it and see what I figure out. I've never heard of this.
---
Read more reviews >