FatBoy Pencil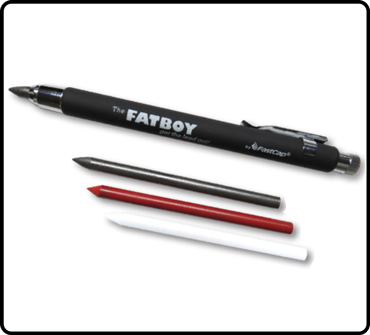 Never break your lead again with the FatBoy Pencil. It combines the utility of a mechanical pencil with the strength of a carpenter pencil. Easily sharpens in a standard pencil sharpener and this unbreakable 5.5mm lead stays sharp longer.
SKU:
Price:
Average Ratings:





4
Write a Review
---
"Eraser Issues"
Review: I bought a FatBoy at Duluth Trading company. The part that hold the eraser falls off the top of the pencil. I have owned this pencil for only a few weeks. Did I buy a broken pencil from Duluth? If I turn the pencil over the metal pieces that hold the pencil sharpener and the erase fall out?

Response: Sounds like the threads are stripped out. Contact Sandi (sandi@fastcap.com) and she'll send you a new one.
---
"Teacher's Pet"
Review: This is my favorite FastCap layout item. It's clean, doesn't roll around a work surface and stays sharp for quite a long time. Adding the functionality of being able to sharpen in any pencil sharpener AND easily changing out the leads/crayons is a huge benefit. The Scouts clamor for these at each Woodwork Merit Badge I teach - so I have started giving them away as an award to the best overall leader and champion at each event.
---
"Love it"
Review: I love mine and use it every day. The lead is amazingly tough and can take a sharp point. If it just had a sharpener in the cap, like some drafting lead holders, it would be perfect.

RESPONSE:
I agree! We're working on it! Paul
---
Read more reviews >