Kaizen Foam
***FREE SHIPPING ON ORDERS OF $100 OR MORE IN CONTINENTAL USA*
*Online orders limited to 50 sheets per order. If you want to order more than 50 sheets please call: 888-443-3748*
Kaizen Foam is another great product designed to help you achieve maximum organization and visual control in your workspace! Kaizen Foam separates between the layers creating a perfect fit for storing all your tools in drawers and on walls. Sheet size: 2' x 4'. Black and White sandwiched foam has 1/8" (5mm) black layer on white foam. You may also want our Kaizen Foam Frame or Kaizen Foam Hot Knife or Kaizen Knife.
Kaizen foam is very expensive to ship due to the size of the sheets, but we offer free shipping on online orders of $100 or more in the continental US. If shipping rates are too expensive please visit our dealer locator to see if a dealer near you carries this product.
You will not be able to place online orders for this product to addresses outside the continental United States. If you would like to order this product and are not located in the continental United States please email: shoppingcart@fastcap.com with the quantity of sheets you would like and your complete address for a shipping quote. This product is very expensive to ship outside the US due to the size of the sheets.
SKU:
Price: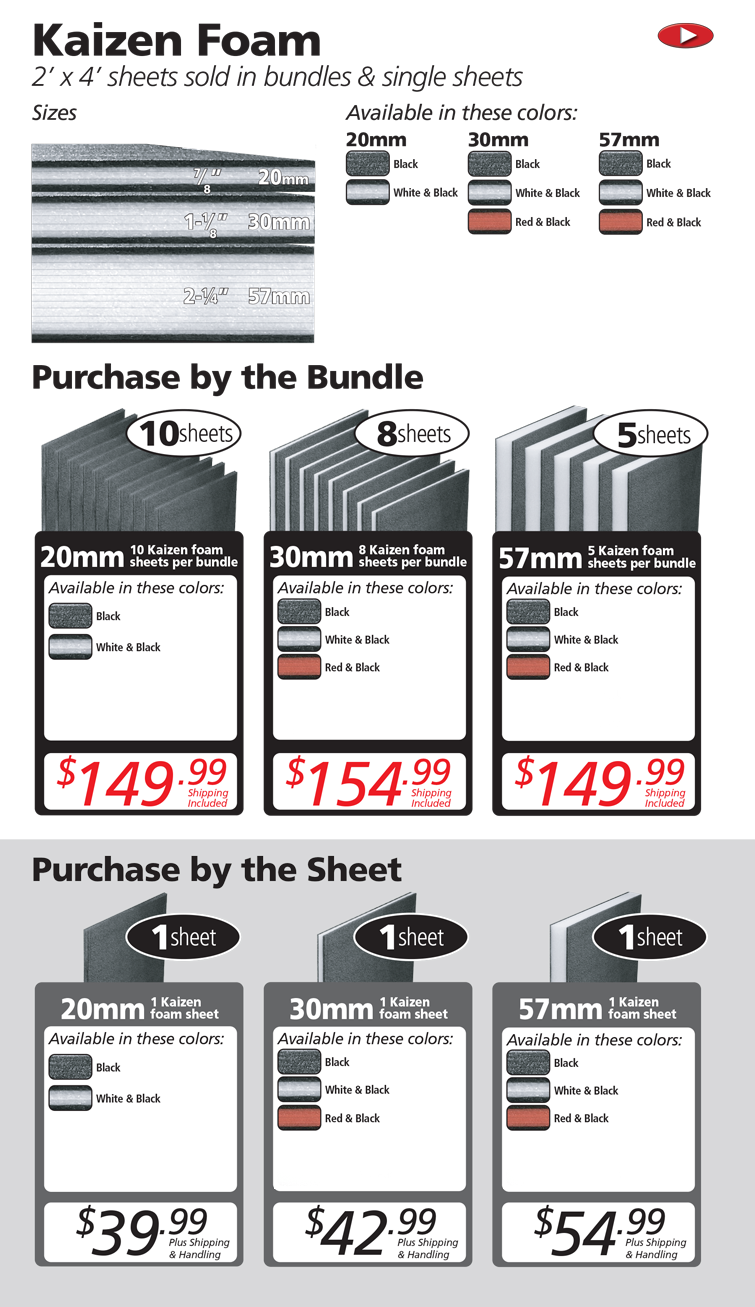 What are the dimensions?
Kaizen Foam Dimensions are 24"x48" plus/minus 1". Tolerances are unavoidable in foam products due to shrinkage and compression during storage and shipping.
Do you have MSDS information on Kaizen Foam?
For MSDS information press here (PDF).
Can I get different colors?
We have the black and white, black and red, and black and yellow foam available for high contrast. If you are interested in another color please let us know. We are currently looking at offering a green foam in the future but do not have a release date at this time.
Didn't you used to have white?
Yes. It was discontinued in 2017.
Can I get custom-sized Kaizen Foam pieces?
Unfortunately, we do not offer any custom cutting for Kaizen Foam. Kaizen Inserts, our dealer in CT does offer custom cuttings, for more information please check out their website: https://kaizeninserts.com/
Is it possible to get Kaizen Foam in larger sizes?
We do have a larger size available, but they are only available for pick up at our Ferndale location. We do not ship them to customers due to the high cost of shipping.
Why is Kaizen Foam so expensive to ship?

The Kaizen Foam sheets are considered an oversized item by UPS and are charged a dimensional shipping rate charge because of how much space they take up for the shipper. To offset this we offer free shipping on orders of $100 or more, or we recommend checking out one of our dealers in your area to get this product for the lowest cost.
Can I order Kaizen Foam online if I am not in the United States?

We do not do online sales for Kaizen Foam to overseas customers. This product is very expensive to ship. Please contact us to discuss shipping rates and dealers in your area. Please email us at orders@fastcap.com or call us at 888-443-3748.
Is this good for packing to ship heavy items?
Yes.
Will spraying the tools with oil to prevent rust hurt the foam at all?
Other than leaving some oil on the surface of the foam--or easier insertion and removal of the tool from the foam--no, not at all. It is a closed-cell foam, meaning that liquids will not absorb into it, but rather just stay on the surface.
Has anyone tried gluing Kaizen Foam into a plastic toolbox? I would like to use something I already have like Liquid Nail.
That mostly depends on what material of plastic toolbox and if Liquid Nail will stick well to the plastic. The liquid nail will work great with the foam! – The foam is PE but is fairly porous so it bonds well, the main concern in adhesive choices is heat (exothermic reaction when curing) which could melt the foam.
Average Ratings:





5
Write a Review
---
"best product for custom tool organisation"
Review: Awesome product. came with 2 sheets, each 2' x 4'. I found that 30 mm was perfect for my tool drawers. take your time. Buy the long nose marker (silver) and hot knife with adjustable thermostat from fastcap. I used the hot knife "stamp" accessory to make finger holes to pick up the tools out of the foam and to smoothen out height transitions underneath the tools in the white. the hot stamp does not discolor the white foam as long as you keep it at the medium/low temp. Also remove any black residue on the stamp before pressing into the white foam. that will help keep the white clean and crisp.
---
"Great stuff"
Review: I use it to protect my model trains while traveling to train shows in my area. I don't have to worry about the fine detail parts being damaged or knocked off. I will be getting more soon, adding more cars and locomotives to my collection. No trouble cutting it and it seems to hold up very well over time.

Response: What a fun application!
---
"Perfect!"
Review: Super easy to cut and peel. I was able to easily mark the tool outline using the long tip marker. I think its awesome how you can cut to different depth for different parts of each tool for an absolute custom fit!
---
Read more reviews >