Kaizen Foam Frame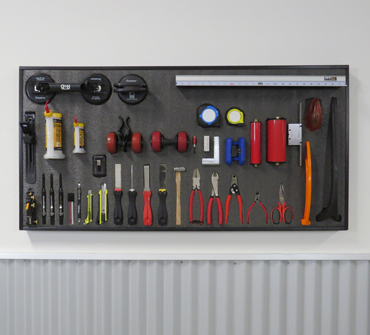 The Kaizen Foam Frame comes with a SINGLE 49" EXTRUDED PANEL that allows you to customize your frame. It has a high-performance peel-and-stick adhesive on the back, making it fast and easy to mount on any wall. The back lip allows you to screw the panels into the wall for added support. The frame only fits 57mm Kaizen Foam. This product is great for organizing the workplace, inventory, and hardware areas. Looking for our Kaizen Frame Corners or Kaizen Foam or Kaizen Foam Hot Knife or Kaizen Knife?

***It takes 3 Kaizen Frame pieces to frame a 2x4 sheet of 57mm Kaizen Foam. DOES NOT INCLUDE FOAM***


SKU:
Price: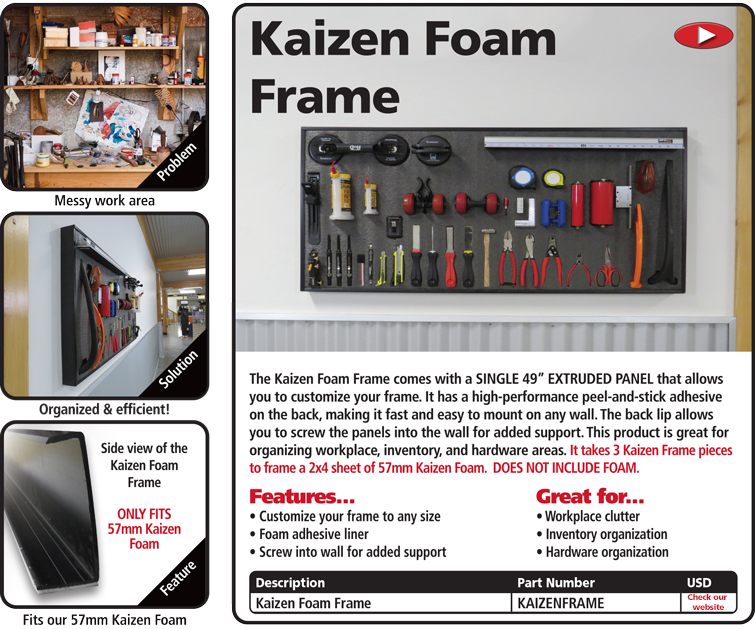 Do you have MSDS information on Kaizen Foam?
For MSDS information press here (PDF).
Will spraying the tools with oil to prevent rust hurt the foam at all?
Other than leaving some oil on the surface of the foam--or easier insertion and removal of the tool from the foam--no, not at all. It is a closed-cell foam, meaning that liquids will not absorb into it, but rather just stay on the surface.
Average Ratings:





0
Write a Review
---