The Kaizen Foam Frame comes with a SINGLE 49" EXTRUDED PANEL that allows you to customize your frame. It has a high-performance peel-and-stick adhesive on the back, making it fast and easy to mount on any wall. The back lip allows you to screw the panels into the wall for added support. The frame only fits 57mm Kaizen Foam. This product is great for organizing the workplace, inventory, and hardware areas. Looking for our Kaizen Frame Corners or Kaizen Foam or Kaizen Foam Hot Knife or Kaizen Knife?

***It takes 3 Kaizen Frame pieces to frame a 2x4 sheet of 57mm Kaizen Foam. DOES NOT INCLUDE FOAM***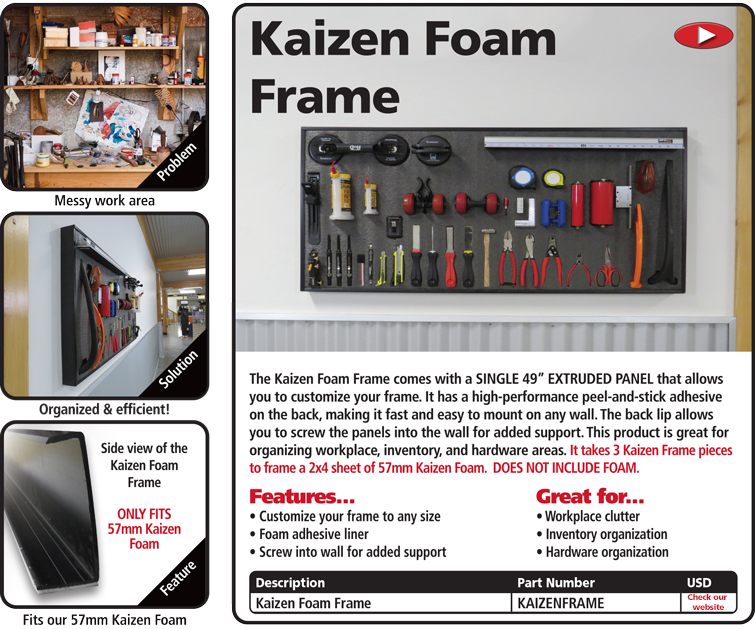 Do you have MSDS information on Kaizen Foam?
For MSDS information press here (PDF).
Can I get different colors?
We have black, black and white, black and red, black and yellow, and black and green foam available for high contrast. If you are interested in another color please let us know. We are currently looking at offering blue foam in the future but do not have a release date at this time.
Didn't you use to have all white?
Yes. It was discontinued in 2017.
Can I get custom-sized Kaizen Foam pieces?
Unfortunately, we do not offer any custom cutting for Kaizen Foam. Kaizen Inserts, our dealer in CT does offer custom cuttings, for more information please check out their website: https://kaizeninserts.com/
Why is Kaizen Foam so expensive to ship?
The Kaizen Foam sheets are considered an oversized item by UPS and are charged a dimensional shipping rate charge because of how much space they take up for the shipper. To offset this we offer free shipping on orders of $100 or more, or we recommend checking out one of our dealers in your area to get this product for the lowest cost.
Can I order Kaizen Foam online if I am not in the United States?
We do not do online sales for Kaizen Foam to overseas customers. This product is very expensive to ship. Please contact us to discuss shipping rates and dealers in your area. Please email us at orders@fastcap.com or call us at 888-443-3748.
Is this good for packing to ship heavy items?
Yes.
Will spraying the tools with oil to prevent rust hurt the foam at all?
Other than leaving some oil on the surface of the foam it will not damage the foam at all. It is a closed-cell foam, meaning that liquids will not absorb into it, but rather just stay on the surface.
Has anyone tried gluing Kaizen Foam into a plastic toolbox? I would like to use something I already have like Liquid Nail.
That mostly depends on what material of plastic toolbox and if Liquid Nail will stick well to the plastic. The liquid nail will work great with the foam! – The foam is closed cell polyethylene but is fairly porous so it bonds well, the main concern in adhesive choices is heat, as some glues create a heat reaction when curing which could melt the foam.