Sumo Strap Adjustable Case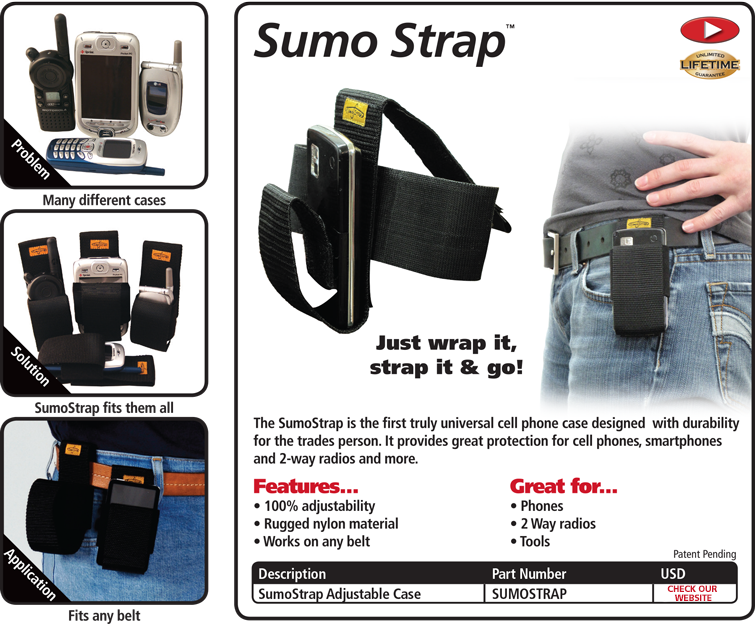 What is the size of the Sumo Strap?
The max circumference is 9 inches. The depth would be about 8-1/2 inches with no more than about 5-3/4 inches sticking out the top.
Average Ratings:





4.5
Write a Review
---
"Velcro wears out after a while."
Review: I really like this product and have used it for at least a year and a half just about everyday. It has worked very well for me. After all this time of daily use though, the velcro that secures it around my belt is starting to wear out and not stick as good, sometimes leaving the sumo strap loose and wanting to fall off. I think it might be time for some continuous improvement for this product. The velcro idea is great to allow for adjustability to any type of device size so that way you don't have to buy a new holster with each device, but I think the velcro for attaching it to a belt could be replaced by something like a clip that will last much longer and keep the sumo strap more secure. Something similar to the OtterBox Defender Series Holster/Belt Clip might work well.

Response: Yes, great idea. I use one daily and have the same problem. We will look into improvement!
---
"This thing is awesome"
Review: Keeps my constant companion, the iPod Touch, safe and always in reach. I used to just slide it into my pocket but this always risked scratching it on keys or coins, was uncomfortable / unsightly depending on the pants. I like that it holds it snugly but I don't have to undo anything to get it out.
---