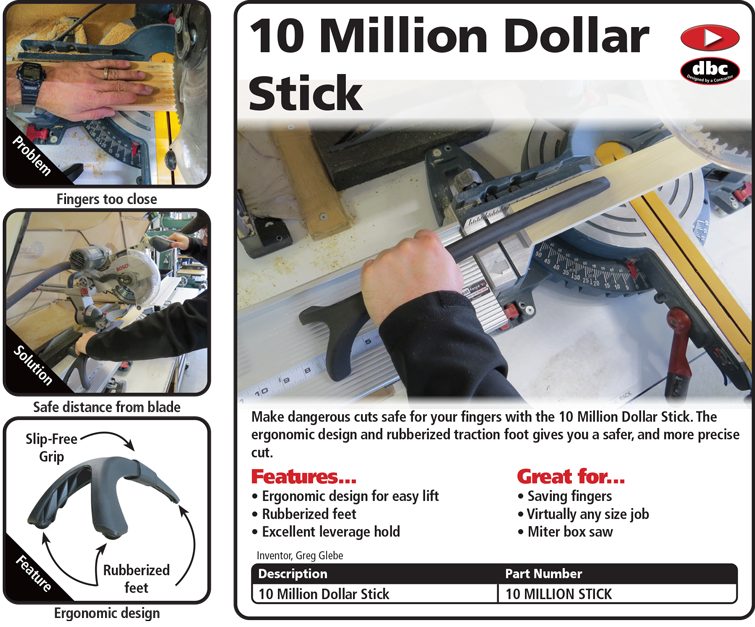 Does it work with plastic/Acrylic/ PETG, etc.?
Yes. We use it all the time on plastic parts.
Average Ratings:





5
Write a Review
---
"10 Million Dollar Stick"
Review: This is an absolutely wonder full product. I use it daily in my shop. I think back now and wonder how I kept from injuring myself the way I used to cut small pieces on the chop saw. I now am able to cut small pieces more easily and certainly more safely. worth more than 10 Million dollars. (Priceless)

Response: Love hearing this. Thanks Wally!
---
"Million Dollar Fingers & Stick"
Review: Hey there... Got my Million Dollar Stick a few days ago and have already put it to good use...great product. Simple, yet very innovative and effective. We've all put out fingers way to close to that blade to make that last one small cut...don't do it anymore. And some of us may have tried to clamp those small pieces only to watch them get caught in the blade and flung across the shop (and hopefully not in your face). This product solves the problem...nice. Unfortunately it did not have the small magnet on it (as shown in the product video), but it still does a super job. Thanks guys... John
---