KISS Drill Bit System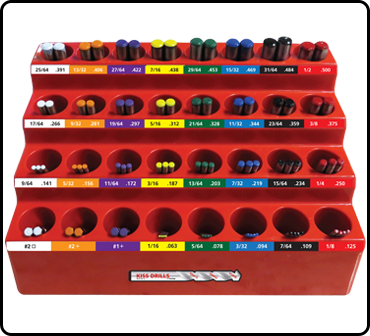 Get your bits organized with the KISS Drill Bit System. These High Speed Steel Split Point Jobber Bits come in a set of 82 color-coded bits, it eliminates guesswork when finding & returning bits. It also helps identify broken or missing bits in your set. Buy Replacement Bits.
SKU:
Price: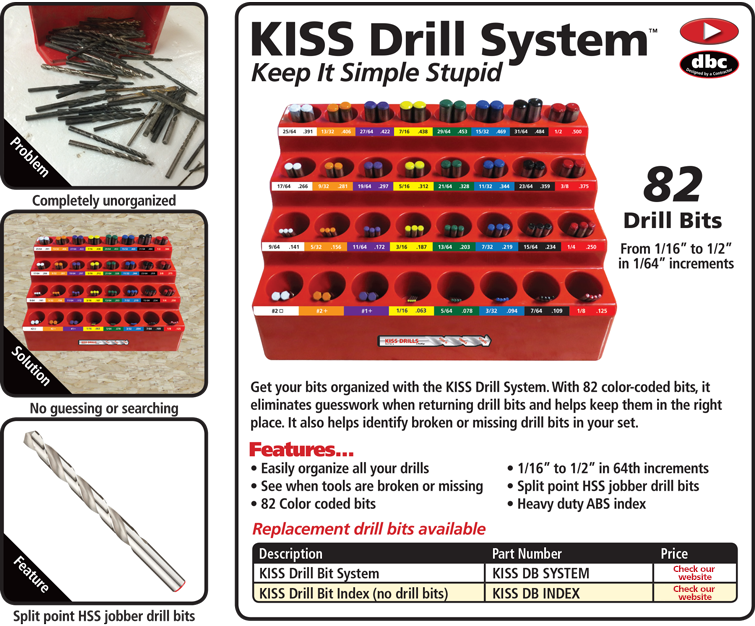 Drill Bit Material: High Speed Steel
Drill Bit Style: Jobber
Flute Length: 9-13x diameter
Point Angle: 135 Degrees
Point Type: Split point
Helix Angle: 45 Degrees
Recommended Materials: Wood, Aluminum, Mild Steel, Stainless Steel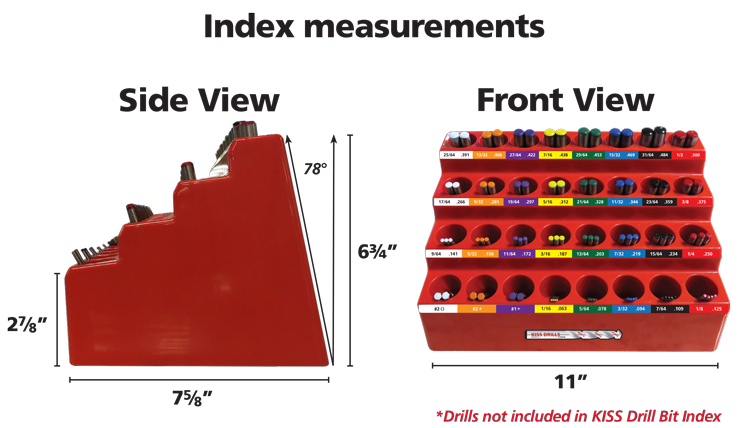 Average Ratings:





5
Write a Review
---
"Kiss drill bit Index"
Review: I'm thrifty (cheap). I bought the index box to hold all my mismatched drill bits. I went to Hobby Lobby and bought $15.oo worth of auto model paints in the colors to match the columns. I then took all my bits and dabbed them in the paint. Took about 30 min. This way I am able to use the bits I have now and buy replacements from Fastcap as I need them. The quality of plastic used is GREAT. Thanks for the help in my organization.
---
""I must have that regardless of price or actual necessity""
Review: "Bellingham, WA based Fastcap is to woodworking tools what Lisle is to automotive tools...In short, Fastcap is the type of company you can feel good about supporting." Check out this review by Travis Raynes at Tools In Action.
---
"Watch My Review"
Review:
---