The Taper Lock, the first bit holder that really works; the harder you pull, the tighter it gets! This unique patented design uses a tapered spindle to firmly hold any bit in place. It also features a one-touch auto-lock for easy release of the bit with one hand. Works with any bit. Press here to see the Tip Magnet.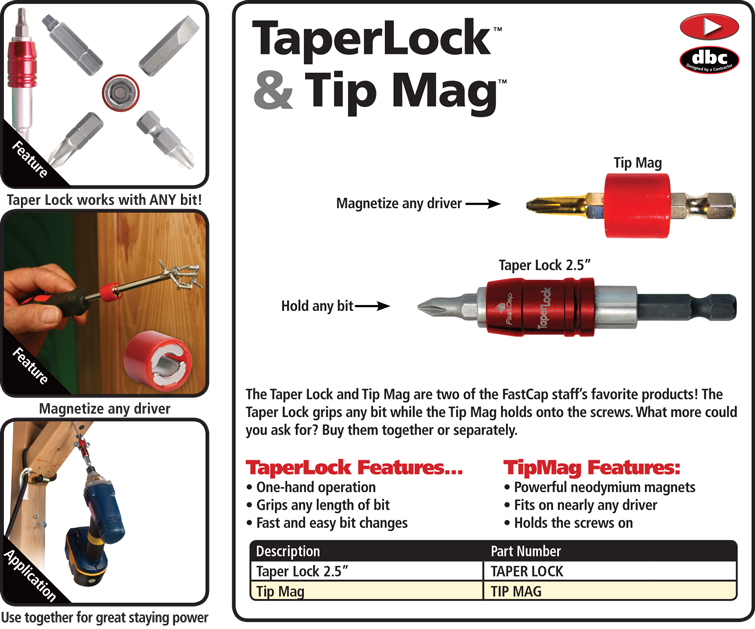 Does it work if you pull the drill straight off the screw? I usually solve this problem by wiggling the driver like you are showing. It would be great to show that you don't have to do that.
Yes, it does work to pull the drill straight off the screw, but only if you are strong enough to pull it straight off. Otherwise, a little wiggling decreases the force required!
How does it hold up against the superpowers of impact drivers coming out these days? My Bosch idh182 seems to destroy most things meant for impacts from yesteryear.
This is not meant for impacts from yesterday! It's meant for the impacts of tomorrow! It will hold up better than any other accessory for impacts. I just tried my hardest to break one. Blew up 5 impact bits, broke a socket open on a socket wrench, and couldn't make the taper lock fail in any way. In fact, I'm willing to bet it will out last your current impact gun, AND the next 2 you buy! – and if it doesn't, send it back and get a free replacement! – and I only want it back because I have NEVER seen one break on a customer.