PowerMags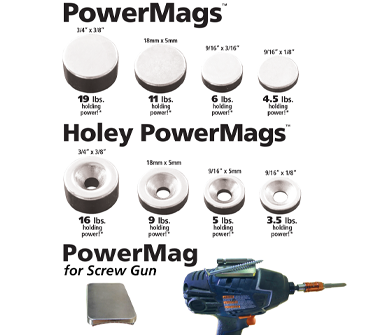 PowerMags will transform the way you use magnets. These versatile, high-performance neodymium magnets can be used to make invisible magnetic catches, as well as hold anything and everything metal. Get creative!

Holey PowerMags feature holes to accommodate a screw for attaching the magnet to your surface. The magnets are countersunk for any standard Bugle head screws.
Always losing your screws and bits? The Power Mag for Screw Gun will help you keep everything together! It features one large neodymium high-performance magnet with a VHB Foam tape on the back to secure to your Screw Gun.
SKU:
Price:
Where are PowerMags made?
They are made in China.
Average Ratings:





5
Write a Review
---
"High quality Magnets"
Review: I have recently become a magnet junkie and purchased 2 -3/4x3/8 power mags. These things are extremely strong. I have 6- 1.26x3/8 N52 Mags I got off of amazon which supposedly has a 75lb rating and I can pull them apart with a little bit of effort. The smaller less powerful fastcap powermag I cannot pull apart without the assistance of the corner of my workbench. 1 of these powermags effortlessly holds my #5 Stanley Jack Plane upside down against my air cleaner (just for testing purposes) very good product. Thank you Fastcap
---
"Check out my review"
Review:
---