SpeedClip, Tape Measure Belt Clip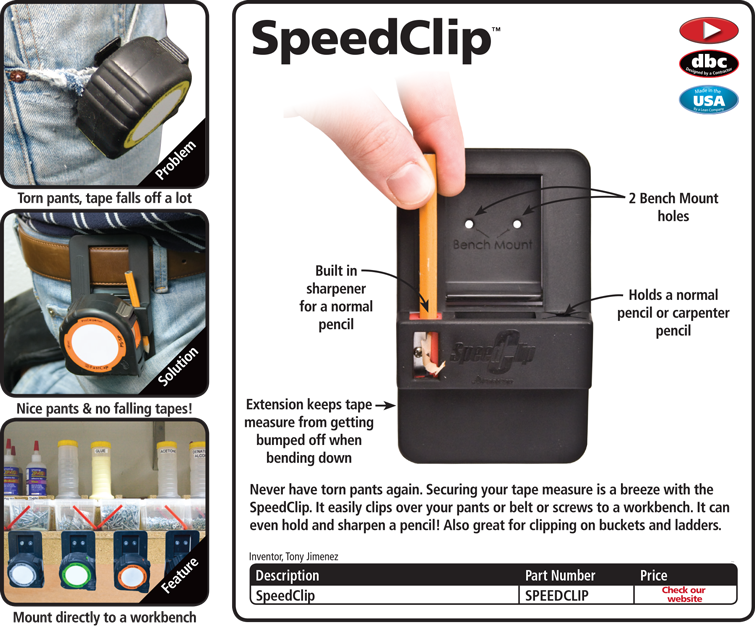 Average Ratings:





3
Write a Review
---
"SpeedClip Review"
Review: I ordered 4 of these because of the price and idea. Tired of trashing $50.00 jeans because of tape measure. My problem is none of my tape measure clips fit into the speedclip. I don't use any special tape measure but neither Stanley or Dewalt will fit. Time to break out the Dremel tool I guess.

RESPONSE:
Thanks Brian for bringing this to our attention. We have increased the size of the SpeedClip moving forward!!!
---
"Like the man said, great idea, lousy execution."
Review: I bought this to keep my tape from popping off my belt, instead the whole thing pops off my belt. The underside of the clip really needs to loop under the belt, like on some gun holsters. Plus, it needs a pencil sharpener that doesn't break the point off of pencils. Maybe you could do that for a few cents. Raise the price point to $1.99 and no one would care.

RESPONSE: Thanks for your feedback. That is the first time I've ever heard this complaint & we sell millions of SpeedClips. Do you mind sending me a video of your problem? Paul
---
"Favorite FastCap Product"
Review:
---