Track Rack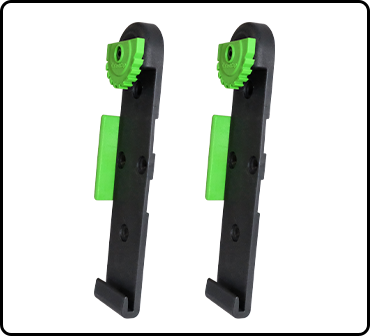 The Track Rack is a great way to store track guide systems. The unique design allows you to mount most track systems on the wall vertically or horizontally. They can be mounted on a garage door, ceiling or work vehicle. The two mounting patterns give the flexibility to mount them on drywall, bare studs, panels on your garage door, or on trailer walls. The cam lock provides a positive secure lock that holds your fences safely. Designed by a fellow woodworker you will appreciate its thoughtful and elegant design.
Works great with the following track guide systems: Makita, DeWalt, Festool, Kreg Adaptive Cutting System, and Triton.
SKU:
Price: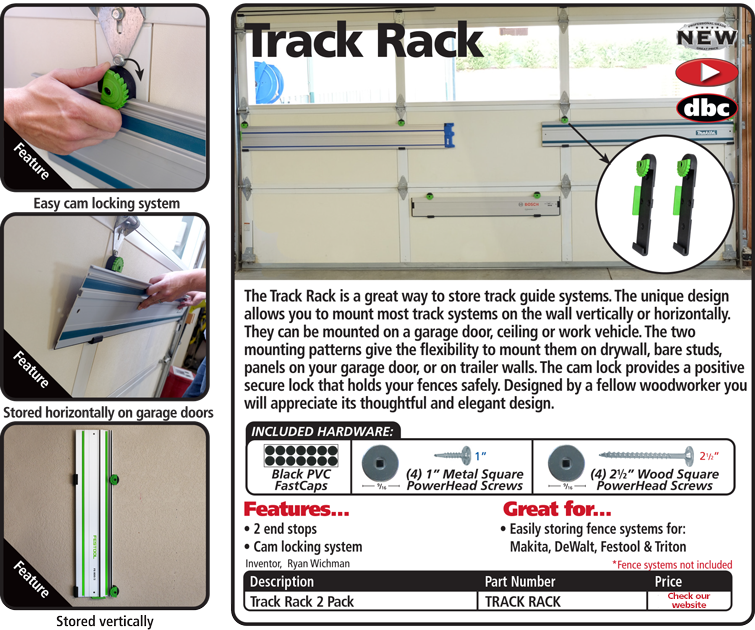 Does it work with DeWalt?
It works great with Makita, DeWalt, Festool, Kreg Adaptive Cutting System, and Triton.
Average Ratings:





4.5
Write a Review
---
"Works Great!"
Review: These mounts are well made and have allowed me to mount my three rails to my garage door. Now they're secured and out of the way. Would definitely recommend if you have a track saw!

Response: Thanks Bill! We love hearing this!
---
"Wrong track"
Review: These would be nice if they fit, I have the Kreg AccuCut track, they are to big. I will modify them to fit but had to put it out there what they do not fit.

Response: I'm very sorry! This is a brand new product for us. We know it fits 90+% of the track racks on the market but not all of them. We are working on compiling a list of models of track that will fit without modification and which ones need modification to work. Because of this, I have issued you a full refund for the order you placed, as we do not feel it is fair for you to have to modify your product if you were not expecting to have to do this.
---
"Track Rack clean design"
Review: Smart design Saves space and prevents damage for your rails

Response: Thanks!
---