Zero Clearance Tape brings a whole new level of precision to your miter saw. Simply apply over the throat of your saw to eliminate chip out and create an exact reference for line up. Made from durable PVC, they will last for many jobs.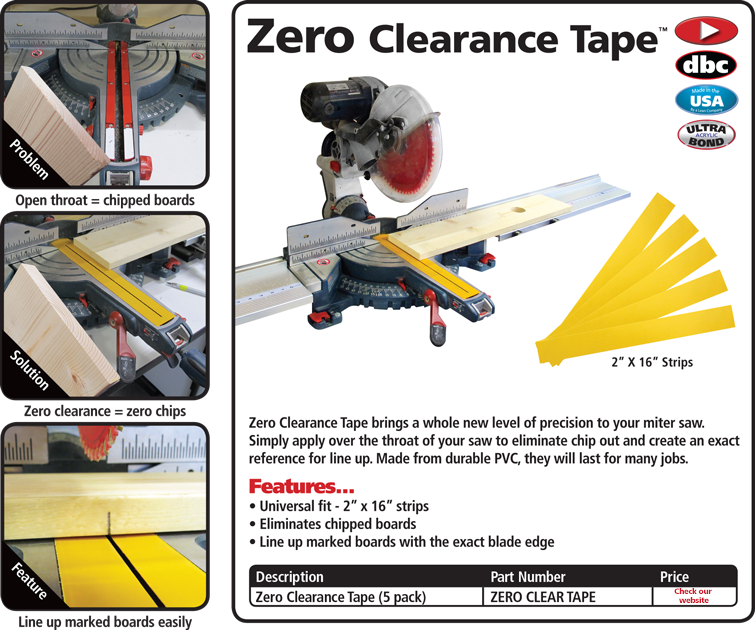 I always see this in reference to miter saws. But is there anything precluding this from being used on a table saw?
It can be used with a table saw, especially if your plate is lowered. The total thickness is 0.021" so it won't affect the angle too much. Here is a link to a video.
I would like to try on my large tile saw but needs to be about 3" wide and just a little thicker/stiffer.
As far as thicker or stiffer you can simply double or triple it up. As far as width we can sell a 3" wide EZ Stripe but not in less than 25-foot rolls. But if you call in we can do a custom order of 6 to 10 ft of 5 foot wide and you can cut it down from there! Please contact info@fastcap.com or 888-443-3748.
Is there a big difference between frog tape or gorilla tape and how easy is it removed from your saw?
Yes, our adhesive is MUCH better than Frog Tape and even stronger than Gorilla Tape. The material itself is also MUCH thicker (necessary for preventing blow-out), so it is very easy to peel the material itself off, but it may leave some adhesive residue. This can be cleaned with lacquer thinner, acetone, Goof Off, etc.