Please call to order any Best Fence System with Standard Fences. Due to a supply chain delay we have a limited supply of our Standard Fences. Our current supply of Standard Fences have minor cosmetic blemishes such as small surface scratches.



CLICK HERE FOR SHIPPING INFORMATION BEFORE PURCHASING
The Best Fence System was created as a stand for your chop saws and miter saws and was designed from the ground up to give you shop level accuracy in the field. This highly modular system is easy to set up, transport and allows you to dial in your miter or chop saw for exact cuts every single time. Select between our Best Fence and Best Fence Pro options, or check out all our Best Fence products and accessories.
Once orders are produced there will be a $50 restocking fee if you want to make any changes.
***BEST FENCE SYSTEMS WITH OUR STAND DELIVER ON A SEMI TRUCK WITH AN LTL FREIGHT CARRIER. THE DELIVERY CANNOT BE LEFT WITHOUT SIGNATURE. IF YOU DO NOT HAVE A FORKLIFT, LOADING DOCK, OR ADDITIONAL HELP AVAILABLE TO UNLOAD ON DAY OF DELIVERY PLEASE CALL 888-443-3748 OR EMAIL SHOPPINGCART@FASTCAP.COM FOR INSTRUCTIONS. THERE MAY BE AN EXTRA LIFT GATE FEE IF THE DELIVERY COMPANY HAS TO HELP UNLOAD THE PALLET TO CURB LEVEL USING THE LIFTGATE ON THE TRUCK***
Once orders are produced there will be a $50 restocking fee if you want to make any changes.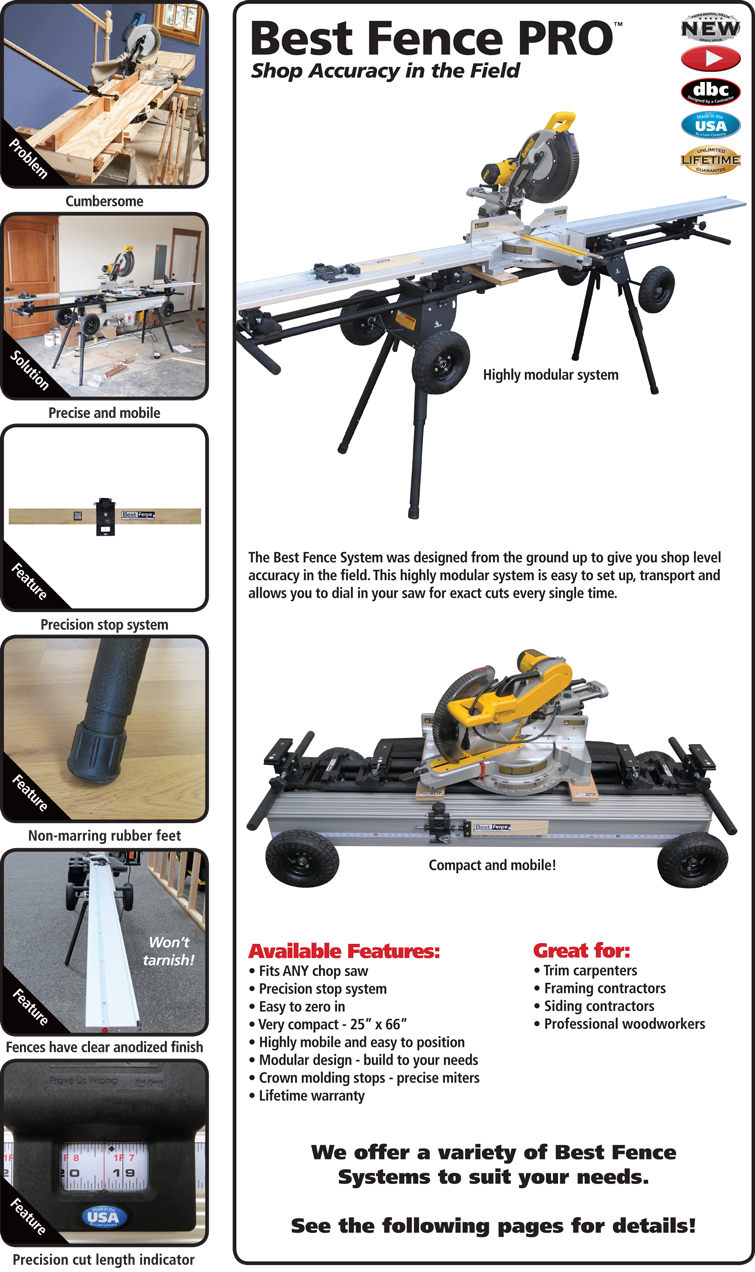 How wide is the fence?
6 13/32" wide.
How wide is the fence with the added Lumber Support?
Just about 14".
The only 1 problem with these fences is the wings are not wide enough. Most sliders cut at least 12" wide material so the wings should be at least 10-11" wide.
The issue with making them that wide is just the weight it makes the whole system difficult to manage. But our solution for this is to use the Best Fence Lumber Support. It's the base part of the crown mold stop. It clips into the bottom of the fence and makes an outrigger that extends to 12.5" from the back stop. Can use as many or as few as you want and mount them any distance out the fence you want.