ChopShop Saw Hood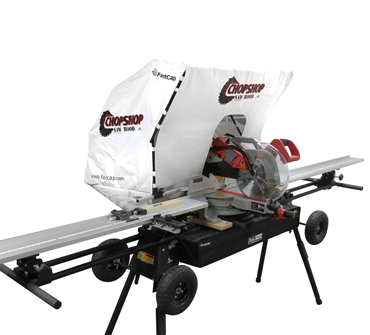 The Saw Hood was designed by a general contractor to eliminate the catastrophic dust problem created by miter saws. Sets up in seconds and contains 95% of dust. You will be amazed at how effective this product is.

The Saw Hood Pro is identical in function to the Saw Hood but is made out of a spring steel so it can fit into a compact bag. If space is an issue, this is the tool for you.
SKU:
Price:
California Residents:
WARNING! This product could expose you to chemicals including di(2-ethylhexyl)phthalate which are known to the state of California to cause cancer or birth defects or other reproductive harm.
For more information visit www.p65warnings.ca.gov
Will the ChopShop Saw Hood attach to any saw/stand combo?
The ChopShop Saw Hood is adjustable and works with 99% of saws. The stand you use should not matter. As long as the saw has accessory holes on the back side, you should be able to mount either ChopShop Saw Hood.
Can a large vac hose port be put in the bottom instead of the larger hole to create some negative pressure?
Yes – absolutely! There is a Velcro opening that will easily hold a vacuum hose into the bottom – we actually do it all the time in our shop! The Sawhood PRO has a drawstring hole that will allow the same thing to be done as well!
Will this work with wet saws for stone cutting?
Yes, it will! You will probably need the SawHood Tile Clamp in order to attach it, as most of those saws don't have accessory mounting holes!
Is there anything available to help with PVC or composite decking debris? I've tried static guard and vacuuming as I go but nothing really helps!
Unfortunately, this is a big issue with composite and PVC decking. We are soon going to be coming out with a new saw hood which is wood and corrugated plastic and should work better for this, but it will not be easily transportable to job sites, it's more of a home-shop saw hood.

For the standard saw hood, an antistatic spray is helpful, but it doesn't last very long, and repeated coatings throughout the job are necessary and become expensive and time-consuming. Soaking the saw hood in water might actually help quite a bit, and be cheaper than antistatic spray and id maybe give it a try, but the only way I know for sure to help is really to set up a coolant system on the cut itself, something like you would have on a CNC machine, or on a tile saw. Grizzly does make some stand-alone coolant systems that could be set up on a job site, but I'm not sure if they will prove enough flow, and also you are going to end up with a mess down in the throat of your saw and all over the ground.
Average Ratings:





5
Write a Review
---
"Cuts Down On Fine Airborn Dust"
Review: I have asthma and had to wear a professional two-filter face mask when using my miter saw. I ordered the chop saw and was amazed at how much it reduced the upward and rear sawdust projection ... so much so that I don't wear the mask anymore and don't wake up the next morning with my sinuses plugged up. I was reminded of how effective it is when I recently had to use another miter saw without it. My glasses were covered with sawdust and my sinuses plugged up quickly. This really is a HEALTH & SAFETY product as much as a cleanliness tool. Grateful for this product!
---
"Excellent product"
Review: This saw hood has saved me countless hours in cleanup over the years. Time is money. And that's not the best thing! It has got me jobs! It makes for a very professional appearance on a job site. Passerby have asked for my business card. Also the client is usually impressed enough to tell their friends. Worth its' weight in gold! It would be nice to have a space for personalizing with my company logo.. my only improvement.
---
"Wonderful!"
Review: Not only does it keep the sawdust from shooting all over my basement, it makes my workshop look like it belongs to a professional.
---
Read more reviews >